BAGHDAD, Iraq (CNN) -- U.S. and Iraqi negotiators have agreed to a preliminary draft of an agreement on the future of U.S. troops in Iraq, a senior U.S. military official said.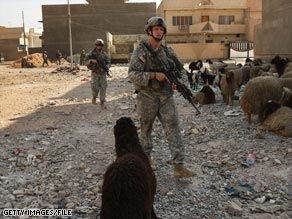 Iraq says U.S. troops will be out of cities by June 30; the U.S. says the date is only a goal.
Officials from the two countries seem to disagree on what the agreement will say, however.
Earlier, Iraqi Deputy Foreign Minister Mohammed al-Haj Hamood indicated that it included a date of June 30 for U.S. troops to withdraw from Iraqi cities and villages. But the U.S. official said there are no dates in the agreement, only general time frames that would take into account conditions on the ground.
The U.S. source, though, said the June 30 date is a goal, but not set in stone.
"Not a deadline, it's not a timeline," he said. "It's conditions-permitting."
The source said the plan has the approval of U.S. negotiators but President Bush has not signed-off on it. He said it could take a while for the plan to be approved by Iraq's government.
"We are not there yet," State Department spokesman Robert Wood said.
Deputy White House press secretary Gordon Johndroe said talks to finalize the deal are continuing.
In recent weeks, Iraqi government officials said that early versions of the plan would have called for U.S. combat troops to leave Iraq by the end of 2010 and for the remainder of troops to depart by the end of 2011. By June 20, 2009, troops would be restricted to their bases and prohibited from patrolling Iraq's streets.
The Iraqi government also would be able to request that U.S. troops remain longer under the preliminary agreement talks.
The U.S. military presence in Iraq is spelled out by a U.N. mandate that is set to expire by the end of this year. Iraq and the United States want to replace that mandate with an agreement that would provide a framework for how U.S. troops operate within the country.
Influential Shiite cleric Muqtada al-Sadr has asked religious authorities to issue an edict against the signing of a bilateral agreement.
He's asking the marjaya, the Shiite entity that includes Grand Ayatollah Ali al-Sistani, to stand against any agreement that would establish guidelines and strictures in all areas, including security. Al-Sadr also has said he would support the Iraqi government, with which he has been at odds, if it refused to sign such an agreement.
E-mail to a friend

CNN Pentagon correspondent Barbara Starr contributed to this report.
All About Iraq War • Muqtada al-Sadr • U.S. Armed Forces Activities