BAGHDAD, Iraq (CNN) -- Washington and Baghdad are close to completing the terms of a bilateral pact that, among other things, might outline how long U.S. troops will remain in Iraq, the top U.S. and Iraqi envoys said Thursday.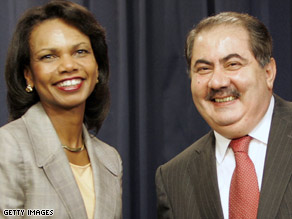 Secretary of State Condoleezza Rice and Iraqi Foreign Minister Hoshyar Zebrani held a joint press conference.
The United States and Iraq "are working together as partners to make certain we cover the concerns of both parties," including Iraqi sovereignty and the nature of the war-ravaged nation's relationship with the U.S., Secretary of State Condoleezza Rice said hours after arriving in Iraq on an unannounced visit.
Speaking alongside Rice at a news conference, Iraqi Foreign Minister Hoshyar Zebari said that "there has been a great deal of progress" in formulating a U.S.-Iraqi strategic framework agreement and both sides are "very close to finalizing" the pact.
Rice met earlier with Prime Minister Nuri al-Maliki.
Shortly after arriving in Baghdad, Rice said she planned to meet with top Iraqi officials on the status of negotiations to keep U.S. forces in Iraq after the expiration of a U.N. Security Council resolution later this year.
Rice said she thought it "might be useful to come out at this stage and get an update and be able to go back and brief the president" on what remains to be done.
"[It's] a very gratifying time because we're in a position where we believe we're going to be able to hand most security functions to the Iraqis," Rice said.

Watch Rice's position on U.S. troops in Iraq »
She flew aboard a U.S. military transport from Incirlik Air Base in Turkey, where she spent the night following a visit to Poland.
The trip comes amid reports that U.S. and Iraqi negotiators have agreed to a preliminary draft of an agreement on the future of U.S. troops in Iraq, a senior U.S. military official said Wednesday. Officials from the two countries seemed, however, to disagree on what the agreement will say.
"All of the reports and rumors and chatter, it really ought to be ignored," Rice said en route to the Iraqi capital. "When we have a deal, we'll have a deal."
Iraqi Deputy Foreign Minister Mohammed al-Haj Hamood indicated earlier that the agreement included a withdrawal date of June 30, 2009, from Iraqi cities and villages. However, the senior U.S. military official said there are no dates in the agreement, only general time frames that would account for conditions on the ground.
As for timelines, Rice said Thursday that the United States wants to make sure any agreement includes "what really can be done, what is feasible."
The U.S. source, though, said the June 30 date is a goal, but not set in stone.
"Not a deadline, it's not a timeline," he said. "It's conditions permitting."
The plan has the approval of U.S. negotiators, but President Bush has not OK'd it, the source said. He said it could take time for Iraq to approve the plan.
Several U.S. officials on Wednesday said that no final agreement has been reached.
"We are not there yet," State Department spokesman Robert Wood said.
Deputy White House press secretary Gordon Johndroe said talks to finalize the deal are continuing.
In recent weeks, Iraqi government officials said early versions of the plan would have called for U.S. combat troops to leave Iraq by the end of 2010 and for remaining troops to depart by 2012.
Troops would be restricted to their bases by June 20, 2009, instead of patrolling Iraq's streets.
The Iraqi government also would be able to request U.S. troops to remain longer under the preliminary agreement talks.
The U.S. military presence in Iraq is spelled out by a U.N. mandate that is set to expire by year's end. Iraq and the United States want to replace the mandate with an agreement that would provide a framework for how U.S. troops operate in the country.
Influential Shiite cleric Muqtada al-Sadr has asked religious authorities to issue an edict against the bilateral agreement.
E-mail to a friend

All About Condoleezza Rice • Iraq