BAGHDAD, Iraq (CNN) -- At least six people were killed and 50 wounded in a suicide car bombing Saturday at an outdoor market in northern Iraq, an Iraqi Interior Ministry official said.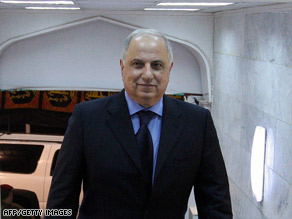 Ahmed Chalabi was unharmed in a car bombing, the Iraqi Interior Ministry said.
The midday attack in Tal Afar, about 45 miles west of Mosul in Nineveh province, was carried out less than a day after a car bombing in western Baghdad that targeted Shiite politician Ahmed Chalabi.
The car bombing hit the same market in Tal Afar where a car bombing last month killed more than two dozen people and wounded scores, police said.
Iraqi officials said at least six people, including five from Chalabi's entourage, were killed in Friday's attack in Baghdad. Chalabi was not harmed, Iraq's Interior Ministry said.
Nine of Chalabi's guards or drivers were among the 17 wounded, the ministry said. The rest of the casualties were civilians, it said.
Chalabi is a controversial Iraqi politician best known outside the country for providing false intelligence to the U.S. government on the presence of weapons of mass destruction in Iraq. The intelligence was cited, in part, as the justification for the 2003 U.S. invasion of Iraq.
A deputy prime minister for a time after the invasion, Chalabi is now head of a committee overseeing the activities of former members of deposed President Saddam Hussein's Baath Party.
Also on Friday, Defense Ministry adviser Abdul Amir Hassan was driving near his home in east Baghdad when he was shot to death by attackers using guns equipped with silencers.
The violence comes as Muslims observe the holy month of Ramadan, a time when markets are busier than usual with people shopping for food and other items in preparation for the breaking of the daily fast at dusk.
Tal Afar, a largely Turkmen city near the Syrian border, is part of Nineveh province, where Iraqi troops, backed by U.S. forces, launched an operation in May to crack down on al Qaeda and other Sunni insurgents.
E-mail to a friend

CNN's Jomana Karadsheh contributed to this report.
All About Iraq • Tal Afar • Ahmad Chalabi • Suicide Attacks