By Jomana Karadsheh
CNN
BAGHDAD, Iraq (CNN) -- At least six people were killed and 50 wounded when a suicide car bomber apparently staged a traffic accident to draw more victims to the explosion.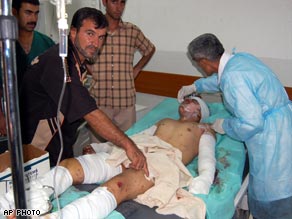 Saleh Bayati, 17 , is treated for injuries from Saturday's suicide bombing in Tal Afar.
The suicide attack happened around midday Saturday at an outdoor market in Tal Afar in northern Iraq, an Iraqi Interior Ministry official said.
The bomber got into a traffic accident and began arguing with the driver of another car, the official said. He detonated his car bomb as a crowd gathered around the shouting men, he said.
Police said the attack happened in the same market where a car bombing killed more than 24 people last month.
It comes as Muslims observe the holy month of Ramadan, a time when markets are busier than usual with people shopping for food and other items in preparation for the breaking of the daily fast at dusk.
Tal Afar, a largely Turkmen city near the Syrian border, is part of Nineveh province. Iraqi troops, backed by U.S. forces, launched an operation to crack down on al Qaeda and other Sunni insurgents in the province in May.
Also Saturday, the head of security for Iraq's minister of justice was wounded in an explosion in Baghdad. Lt. Safiih al-Zaboun was driving to his home when an explosive device attached to his car detonated, the Interior Ministry official said.
Other developments
• In Baghdad on Sunday, four roadside bombs wounded eight police officers and five civilians.
• North of Baghdad, in Diyala's provincial capital of Baquba, a roadside bomb targeting an Iraqi police patrol killed one policeman Saturday morning.
• South of Baquba, two men and a woman were killed when a roadside bomb struck the car they were traveling in on Saturday.
E-mail to a friend

All About Iraq