(CNN) -- A strong earthquake measuring 6.1 in magnitude struck southern Iran on Wednesday, according to a report from the U.S. Geological Survey.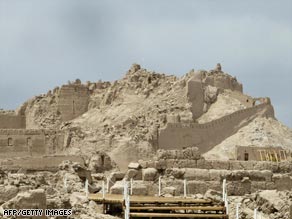 The citadel at the city of Bam, Iran in 2005, hit by a quake in 2003 when 30,000 people died.
The quake demolished nearly 200 villages in Iran's Hormozgan Province, according to Iran's Press TV, citing the head of the provincial disaster management headquarters, Yasser Hazbavi.
At least six people were killed and 46 others were injured, Hazbavi told Press TV.
People panicked and fled buildings when the temblor struck in the quake-prone region around 3:30 p.m. Iranian time (1100 GMT), Iran's state-run IRNA news agency reported. It also knocked out power to the region.

See map of quake's epicenter »
The epicenter was located 35 miles (55 km) west-southwest of Bandar e-Abbas, Iran -- just across the narrow Strait of Hormuz from the United Arab Emirates -- according to USGS.
Mehdi Rezapoor, head of the Iranian Seismological Center, said it was "a medium-sized quake."
Speaking on Press TV, Rezapoor had no details on damage, but said that based on the quake's strength, "I don't think it was very extensive."
The quake shook nearby Dubai, where CNN staff members said they felt the building they were in shake for about 15 to 20 seconds.
"From my office window at the Dubai Media City where all foreign media are located, I can see that a lot of offices have evacuated buildings," CNN Dubai Bureau Chief Samson Desta said.
"I can see up to perhaps 200 people who have taken refuge out in the streets, causing somewhat of a traffic jam."
There was no evidence of any damage in Dubai, where there are a lot of high-rise buildings.
Iran lies on a series of seismic fault lines and has experienced devastating earthquakes -- most notably in December 2003 when a 6.6 magnitude quake devastated the ancient city of Bam in southeast Iran, killing at least 30,000 people.
E-mail to a friend

All About Iran • U.S. Geological Survey