From Jomana Karadsheh
CNN

BAGHDAD, Iraq (CNN) -- Iraq announced Monday it will let doctors carry firearms, one of several measures aimed at trying to keep medical workers from leaving the war-torn country.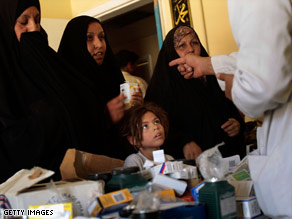 An Iraqi doctor hands out medications at a neighborhood clinic in Baghdad.
More than 2,200 doctors and nurses have been killed and more than 250 kidnapped since 2003, when the U.S.-led invasion was launched, the International Committee of the Red Cross said in a March report.
The government also said doctors can't be detained by police without Ministry of Health approval, and security at doctors' offices and hospitals will be bolstered.
The government also is developing advertising campaigns, setting standard rates for checkups at private clinics, working to establish residential compounds and coming up with attractive salaries to entice refugee physicians to return home.
"Of the 34,000 registered doctors in 1990, at least 20,000 have left the country," the Red Cross report said.
"The Iraqi health-care system is now in worse shape than ever," the report said. "Five years after the war began, many Iraqis do not have access to the most basic health care. There is a lack of qualified staff and many hospitals and health-care facilities have not been properly maintained."
A Health Ministry official said 8,000 doctors had left their jobs since 2003, with some fleeing the country but others simply keeping a low profile because they were afraid to go to work.
This year, about 800 doctors have returned to their jobs, the official said. But doctors have told CNN that most of those are not the doctors who have earned superior reputations over the years.
E-mail to a friend

All About International Federation of Red Cross and Red Crescent Societies • Iraq War