JERUSALEM (CNN) -- Residents of Gaza City were without power Thursday after the Israeli military halted some fuel shipments because of ongoing rocket attacks on Israel, Palestinian sources said.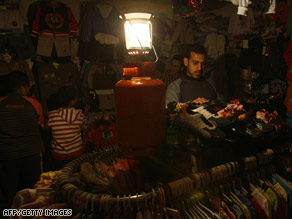 Palestinians shop by the light of a gas lamp amid electricity shortages in Gaza City on Thursday.
The United Nations Relief and Works Agency, which provides assistance to some 80 percent of Gaza's 1.5 million people, said it was forced to suspend deliveries of fuel and humanitarian relief on Thursday because Israel closed its border crossings with Gaza.
The move comes amid escalating hostilities on the Gaza-Israel border, which is threatening a five-month truce between Israel and Palestinian militant factions in Gaza.
Earlier in the day, the Israeli military said it would not allow 30 truckloads of fuel and humanitarian supplies to enter the Hamas-controlled Palestinian territory because of the ongoing rocket fire and security threats at border crossings, Defense Ministry spokesman Peter Lerner said.
Those truckloads included European Union-funded fuel for Gaza's sole power plant, which Palestinians said would be shut later in the day. It was unclear if the plant was running out of fuel.
The shipments had been scheduled to cross into Gaza early Thursday.
Lerner said future deliveries will also be postponed because of terrorist threats to the crossings. He noted that 600,000 liters of fuel crossed into Gaza on Wednesday.
Tensions began last week when Israeli troops entered Gaza to blow up an underground tunnel from Gaza to Israel that the military believed was going to be used by militants to kidnap Israeli soldiers.
That set off a wave of fighting and rocket attacks that killed 10 Palestinian gunmen. One Israeli soldier suffered minor injuries.
In addition to the power outages, UNRWA has warned that continued delays will leave some 750,000 Palestinians without food starting Friday.
"It is pushing our operation to the brink every few months," UNRWA spokesman Chris Gunness said. "This is no way for a U.N. agency to operate; we need consistent and guaranteed supplies to enter Gaza on a long-term basis."
He warned that stopping U.N. aid from reaching Palestinians in Gaza could empower radical militant groups.
"UNRWA teaches moderation and human rights in a place that is becoming more and more radical," Gunness said. "Stopping the aid from going through is not in Israel's interest."
But Israeli Foreign Minister Tzipi Livni, who now heads the ruling Kadima Party, said the humanitarian concerns in Gaza are the fault of Gaza's Hamas leadership.
"Hamas is responsible for what goes on in the Gaza Strip," Livni said Wednesday, speaking at the U.N. headquarters in New York. "The terrorism from Gaza continues, and no action should be taken that gives even the semblance of legitimacy to the regime or actions of Hamas."
Israel has maintained a general closure of its crossings into Gaza since the outbreak of fighting last week, except for vital humanitarian aid. Foreign journalists who normally have access to Gaza have also been denied access.
The Foreign Press Association has protested the restrictions, claiming in a written statement that the Israeli government has provided no "plausible explanation" for the lockdown and characterizing the situation as a "serious violation of press freedom."
E-mail to a friend

CNN Jerusalem Bureau Chief Kevin Flower and CNN's Paul Colsey contributed to this report.
All About Gaza City • Israel • Hamas • Palestinian Politics • Israeli Politics • Gaza