(CNN) -- "The Spirit of..." team has been running an online poll asking viewers to choose who they think has been the most influential leader to have featured on the show over the course of the past twelve months.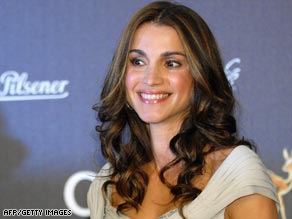 Not just a pretty face: Queen Rania has used her position to fight for better education for Jordanian youth.
In this end of year show, we will reveal who has won that poll as well as looking at some of the amazing leaders who have been lucky enough to interview on the program.
We will showcase the most amazing places and people who have appeared this year -- sporting leaders like Johan Cruyff and political leaders like Kofi Annan and Queen Rania of Jordan to great scientific minds like John Sulston and Stephen Hawking. We will bring you up to date with what is happening on the stories we covered before, before finally announcing who has won the poll.
Watch the show at the following times: Thursday 11 December: 1400, 1830, Saturday 13 December: 1800, 1830, Sunday 14 December: 0400, 0830, 1400 (all times GMT).
E-mail to a friend