BAGHDAD, Iraq (CNN) -- Deadly attacks in northern Iraq on Monday left nine people dead -- including seven from one family -- while attacks near Baghdad left 11 dead, authorities said.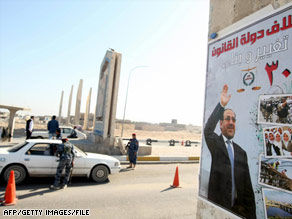 Along with provincial elections in Iraq, residents in Basra may also be voting to become an autonomous region.
Police in Mosul said two civilians were killed when their vehicle struck a roadside bomb in southern Mosul, and at least four Iraqi soldiers were wounded when a suicide car bomber attacked their patrol west of the city.
Meanwhile, seven members of the Yazidi sect, all from one family, were found shot dead in their home in the town of Sinjar, about 75 miles (121 kilometers) west of Mosul, officials said. Three women were among the victims.
The Yazidi sect is a mainly Kurdish minority, an ancient group that worships seven angels, in the form of peacocks, who are subordinate to the supreme god who created the universe.
Hundreds of Yazidis were killed last year in truck bombings that targeted their villages in northern Iraq.
Suicide attackers struck the Baghdad region Monday, with a car bomber killing nine police officers.
The bombing occurred between Khan Dhari and Abu Ghraib. The attacker struck a police patrol near an Iraqi army checkpoint, killing nine police and wounding 26 Iraqis -- police, soldiers and civilians, local police said.
A female suicide bomber blew herself up north of Baghdad near the house of a Sons of Iraq leader in Tarmiya, an Interior Ministry official said. The attack killed the man and his son.
The U.S. military reported unrelated raids over the past two days. Three militants were killed and 13 were detained in operations targeting al Qaeda in Iraq on Sunday and Monday.
The incidents took place in Baiji, Tall Sumayyir and Tikrit, and near the towns of Abu Ghraib, Mahmoudiya and Kirkuk.
The U.S. military also said a 25-year-old male detainee died Sunday at Camp Cropper "after complaining of symptoms consistent with cardiac arrest."
The detainee "lost consciousness prior to being transferred to the guard force on duty" and an autopsy was being conducted, the military said on Monday. The detention facility is near the Baghdad International Airport.
Other developments:
• A push is under way to make Iraq's oil-rich southern province of Basra a federal region, a move that would give it the same legal powers as the autonomous Iraqi Kurdistan and possibly boost Basra's oil income.
A monthlong petition drive started Monday for a Basra region referendum -- which would be held if at least 10 percent of the more than 1.4 million registered voters in the province sign up, said the U.N. Assistance Mission for Iraq, or UNAMI -- which is helping Iraq with its electoral process.
Residents have until January 14 to go to 34 locations in the province to submit their signatures.
A referendum would be held possibly two to three months after Iraqi election officials certify that the required number of signatures was gathered, a UNAMI source said. The voting age in Iraq is 18, but anybody born in 1991 will be allowed to register and submit signatures after January 1.
Under the country's constitution, one or more of Iraq's 18 provinces may form federal regions. At present, the three-province Kurdish region is the only such region in the country.
E-mail to a friend

CNN's Joe Sterling contributed to this report.