By Samira J. Simone
CNN
(CNN) -- Israel has taken its barrage of airstrikes in Gaza to the Web, creating a YouTube channel this week to post footage of its air force dropping bombs on Hamas targets.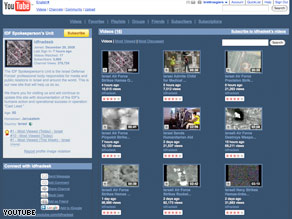 The Israel Defense Forces has posted 16 videos so far of its recent airstrikes in Gaza.
An initial message by the Israel Defense Forces posted on the channel, youtube.com/user/idfnadesk, said Israel wanted to use YouTube to "help us bring our message to the world" with "exclusive footage showing the IDF's operation success" in Gaza.
An IDF spokesman said YouTube was a way to get that message "to as many as we can," though he declined to comment further.
The YouTube channel is just one multimedia platform Israel is using to spread its message on the recent campaign in Gaza, which began Saturday.
The Israeli Consulate in New York also launched a Twitter feed Monday, which it has used to solicit questions from users for a virtual press conference.
The YouTube posts started Monday, with black-and-white aerial military video of Israeli aircraft striking "rockets in transit" and "terrorist smuggling tunnels." Another video in color showed what are identified as Israeli trucks transporting aid into Gaza.
The statement, still posted as of Tuesday night, said YouTube had taken down some of the IDF videos but, "due to blogger and viewer support, YouTube has returned some of the footage they removed."
Don't Miss
The statement was removed sometime Wednesday, replaced with one that reads in part, "We thank you for visiting us and will continue to update this site with documentation of the IDF's humane action and operational success in operation 'Cast Lead.' "
By Wednesday afternoon, the channel had 5,600 subscribers and 16 videos posted. The most popular was a video titled "Israeli Air Force Strikes Hamas Government Complex," which shows a large compound with three structures methodically leveled in an air assault Tuesday. Another video shows a building identified as the office of Hamas leader Ismail Haniya in crosshairs before disappearing in a dark cloud of smoke.
According to its Web site, YouTube has a policy that prohibits "inappropriate content," including violent images. While YouTube wouldn't specifically address the IDF statement, a company official said the site relies on its subscribers to flag videos considered inappropriate.
"We review all flagged content quickly, and if we find that a video does violate the guidelines, we remove it, on average in under an hour," said Victoria Grand, YouTube's policy chief. "Occasionally, a video flagged by users is mistakenly taken down. When this is brought to our attention, we review the content and take appropriate action, which may include restoring videos that had been removed."
The New York Israeli Consulate's Twitter feed has picked up more than 2,600 followers since it launched Monday to share its point of view with a younger demographic, said David Saranga, consul for media and public affairs.
"We saw that there is a big debate, a very vivid debate about the situation in Gaza, and we wanted to bring our point of view, we wanted to share it with people on Twitter," Saranga said.
Using the abbreviated language of 140 characters, the feed takes in comments from users and answers their questions on a variety of issues, from the possibility of negotiations with Hamas -- "we R pro nego...we talk only w/ ppl who accept R rt 2 live" -- to how many rockets have hit Israel in the past six month -- "ovr 500," according to Saranga, who handles nearly all of the questions.
"We wanted to outreach to the young generation, who does not read the conventional media, but is still interested in events in the Middle East, so we thought this is a good way to be an official voice for the questions people are asking," he said.
Israeli airstrikes in the territory began Saturday, in what it calls an effort to halt the firing of rockets into southern Israel. More than 390 Palestinians have been killed, according to Palestinian medical sources, and 1,900 people have been wounded, including 400 women and children.
Israeli sources say four Israelis have been killed by Palestinian rocket fire.
Haniya, whose office in Gaza was struck overnight, said Israel needed to "stop attacking and killing our children, women and men."
The Israeli military says it is targeting only Hamas militants, which it says are responsible for the barrage of rocket fire into southern Israel. Each side blames the other for violating an Egyptian-brokered cease-fire, which formally expired December 19 but had been weakening for months.
E-mail to a friend

CNN's Emanuella Grinberg contributed to this report.