(CNN) -- Asian Pacific markets traded up Tuesday, as a stronger dollar made export-related stocks favorable to investors.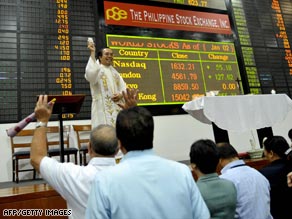 A priest officiates a mass at the Philippine Stock Exchange Monday.
South Korea's KOSPI index and Australia's All Ordinaries index rose about 2 percent. Tokyo's Nikkei index was up 1 percent, and Hong Kong's Hang Seng was flat.
Asian markets also rallied on Monday, but U.S. stocks fell, retreating after last week's big rally as investors digested President-elect Barack Obama's stimulus plan, monthly auto sales and surging oil prices.
The Dow Jones industrial average lost 81 points, 0.9 percent, to fall back below the 9,000. The Standard & Poor's 500 index shed 0.5 percent and the Nasdaq composite slid 0.3 percent.
London, Paris and Frankfurt closed up 0.4 percent, 0.3 percent and 0.2 percent respectively Monday.
Even with some losses on Wall Street Monday, "the market has a better tone to it," said Donald Selkin, chief market strategist at National Securities. He noted that while the major gauges are lower, the broader market is higher, with winners topping losers on the New York Stock Exchange. On the Nasdaq, winners and losers were roughly even.
Stocks had rallied Friday, with the Dow closing above 9,000 for the first time in two months, as investors pulled money out of bonds and put it to work in beaten-down equities.
Stocks are coming off a classic end-of-year "Santa Claus" rally. According to the Stock Trader's Almanac, a combination of the last five trading days of the previous year and the first two of the next have yielded an average return of 1.5 percent for the S&P 500 since 1950. The S&P is up 7.3 percent through Friday.
"On Friday, we had the best first-day-of-the-year rally since 2003, and that year was a comeback year after a terrible bear market," Selkin said. "We could see something similar this year, although I think any gains will be smaller."
In 2003, stocks bounced back from a three-year bear market, with the S&P 500 gaining 26 percent.
Obama met Monday with leaders of both parties to start pushing for his economic stimulus plan. The plan will include $300 billion in tax cuts for businesses and individuals, and provisions for renewable-energy production and road and school construction.
The nation's automakers reported December sales results during the session. Ford Motor said sales fell 32 percent in the month, a slightly narrower loss than what analysts had been expecting. General Motors said sales fell 31 percent in December, also slightly narrower than what analysts had forecast.
Toyota reported that sales fell 37 percent in the month, while Chrysler reported sales fell 53 percent.
Market breadth was mixed. On the New York Stock Exchange, winners narrowly topped losers on volume of 1.06 billion shares. On the Nasdaq, advancers beat decliners by a narrow margin on volume of 1.64 billion shares.
Treasury prices tumbled, raising the corresponding yield on the benchmark 10-year note to 2.49 percent from 2.37 percent Friday. Treasury prices and yields move in opposite direction. Yields on the 2-year, 10-year and 30-year Treasuries all hit record lows last month.
Lending rates were mixed. The 3-month Libor rate rose to 1.42 percent from 1.41 percent Friday, a 4-1/2-year low. Overnight Libor held steady at 0.12 percent. Libor is a key bank lending rate.
U.S. light crude oil for February delivery rose $2.47 to settle at $48.81 a barrel on the New York Mercantile Exchange.
COMEX gold for February delivery fell $21.70 to settle at $857.80 an ounce.
E-mail to a friend