By CNN's Simon Hooper





DAVOS, Switzerland (CNN) -- Business leaders at the World Economic Forum warned Thursday that the financial crisis was far from over -- and said it could be 2010 before many contracting economies see the first signs of recovery.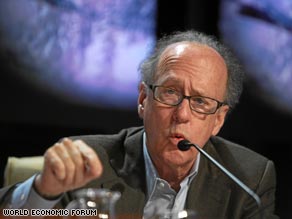 Morgan Stanley Asia boss Stephen Roach warned the world could suffer a relapse unless causes are corrected.
Stephen Roach, the Chairman of Morgan Stanley Asia, said those expecting an early recovery were likely to be "very disappointed."
"The worst will be over sometime this year but the recovery is going to be very anemic, and in the first part of the recovery it won't even feel as if the recession has ended," Roach told CNN.
He predicted a "period of protracted sluggishness" lasting at last three years -- but warned the economy could slide back into recession unless the imbalances in the financial system that had caused the crisis were addressed.
"The danger is that we have a relapse and go back into a renewed global recession," he said.

Watch Roach's interview in full »
Tim Flynn, Chairman of accountancy firm KPMG, said 2009 was likely to see further savage layoffs following the loss of hundreds of thousands of jobs worldwide in the past few weeks.
"This has moved from being a financial crisis into the mainstream," Flynn told CNN. "Unemployment has risen dramatically in the U.S. and around the world and I think we are going to see a continued increase in unemployment throughout 2009."
Craig Barrett, CEO of technology giant Intel, also predicted that the recession could last into 2010. "I'm of the mind that this is going to be an 18-month recession, and it started six to nine months ago so I think it's going to be sometime around 2010," he said.
But James Turley, CEO of consultancy firm James Turley, said there were still profitable opportunities to be exploited and said the financial crisis had accelerated a global shift towards developing markets in India and China.
"In the long term there are still some real opportunities and trends in the marketplace that people need to take advantage of," Turkey said, identifying the flow of capital from West to East and a demographic shift in favor of developing nations as "mega-trends" that would drive the eventual economic recovery.
Azim Premji, the Chairman of software giant Wipro, said that India's economy was robust enough to survive the downturn despite falling exports and high commodity prices and predicted India could lead the world out of recession.
"My personal judgment is that you'll start seeing a reveal in the Indian economy as early as July or August this year," he told CNN.

Watch why Premji has confidence in India »
Meanwhile, economist and former World Bank chief Joseph Stiglitz warned against proposals in the U.S. to create a "toxic bank" to remove bad debts from banking industry balance sheets.

"Why do people think that the U.S. government will do a good job of disposing of toxic assets?" Stiglitz told CNN.
"It is true that we do turn to the public sector for garbage disposal -- but its experience of dealing with toxic assets is nil. It's as if by magic we are going to make the economy work. It's not going to be that easy."
E-mail to a friend