By Jim Boulden
CNN





LONDON, England (CNN) -- The Bank of England reduced interest rates by 0.5 percentage points Thursday to 1 percent, the lowest-ever level.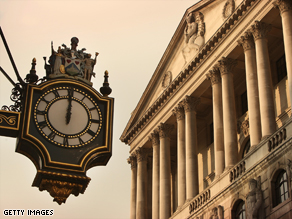 UK interest rates are at their lowest levels since the Bank of England was founded in 1694.
The decision came shortly before the European Central Bank (ECB) announced it would leave interest rates unchanged at 2 percent.
Both moves were widely expected.
The Bank of England and the ECB cited the global economic downturn and the likelihood that inflation is falling fast.
It was the Bank of England's fifth cut since October, when rates were 5 percent. The 315-year-old bank previously set its lowest rate ever January 8, when it cut the rate from 2 percent to 1.5 percent.
The ECB is the central bank for Europe's single currency, the euro, used by 16 European Union countries.
ECB President Jean-Claude Trichet said the European interest rate decision came after a "very, very deep and profound" meeting of the governing council.
"We were unanimous in taking out our decision, which doesn't mean we have the same view," Trichet told reporters. "We exchanged very different angles and views."
In Britain, the Bank of England's last cut did not help many homeowners because few mortgage lenders followed suit and lowered their rates. That caused some controversy since many of these same banks have taken government bailouts to survive.
Don't Miss
Britain's housing market has slumped with prices falling hard and home sales slowing.
It is unlikely many people will benefit from this cut, either. In fact, savers will now get little or no interest on their bank accounts, leading to some criticism that lower rates actually hurt people on fixed incomes, such as the elderly.
Financial authorities also dashed recent predictions in British tabloids that rock-bottom mortgage rates might lead to borrowers actually being paid by the banks.
The Financial Services Authority said paying interest on a mortgage is a one-way contract, so even those few homeowners who have interest rates set well below the base rate won't find the bank paying them -- though they may only have to pay a few pennies of interest a month until rates start to rise.
British manufacturers will certainly welcome the move. If they can obtain a bank loan, their interest rate is likely to be lower, helping to cut costs during the worst recession the country has faced in decades.
It is feared Britain could suffer more during this recession than any of the other big industrialized nations.
There are now a few economists who say this cut will be the last in this cycle, though rates could stay this low for more than a year.
Rate changes are just one of the tools for the Bank of England to stimulate the economy. There are calls for the bank to do even more to get more money into the system, either by buying treasury bonds or lending more money to banks, which could in turn lend more money to business and consumers.
E-mail to a friend

CNN's Jim Boulden contributed to this report.