(CNN) -- Switzerland's biggest bank UBS on Tuesday posted a worse than expected loss of nearly $17 billion -- the largest ever by a Swiss group -- and announced 1,600 new job cuts.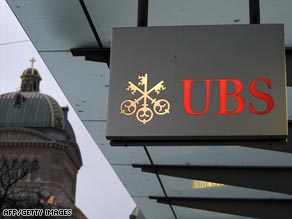 UBS has posted the largest loss in Swiss corporate history.
The bank's full-year loss totaled 19.7 billion Swiss francs, including 8.1 billion francs during the last quarter, UBS said in a statement.
UBS said the job losses would come from its investment bank unit, which suffered the largest exposure to the collapse of the U.S. sub-prime mortgage sector.
It said it would reduce headcount to 15,000 from approximately 17,000, excluding roughly 500 employees at units the bank has previously announced its intention to exit.
Looking ahead, the bank said its outlook remained cautious in a fragile market despite an influx of new money, but chief executive Marcel Rohner said the company would return to profitability.
"The conditions for the financial industry have changed and will remain different for the foreseeable future," he said.
"We have adjusted our businesses such that they are best positioned to be profitable and to grow sustainable earnings in a new environment."
E-mail to a friend