(CNN) -- European Union leaders have agreed to provide "appropriate" aid on a case-by-case basis to member nations battered by the global economic downturn, the union's current president said Sunday.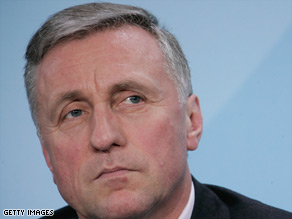 Czech premier Mirek Topolánek currently holds the EU presidency.
Czech Prime Minister Mirek Topolanek called reports of a split over threats of protectionism an "artificial" controversy over-dramatized by news outlets, and said the EU would use its tools "to the full extent" to offset the impact of job losses among its 27 members.
"There has been a clear decision that all member states will get the appropriate assistance in the cases where appropriate," Topolanek said during an emergency summit in Brussels.
The European Union has predicted overall EU economies would shrink by about 1.8 percent in 2009. Eastern Europe has been particularly hard-hit by the slump, with EU member Hungary and aspiring member Ukraine receiving assistance from the International Monetary Fund and the World Bank to weather the recession.
The summit, led by Topolanek and European Commission President Jose Manuel Barroso, was aimed at heading off fears of protectionism, and trying to set guidelines for member nations' plans to fight the impact of the financial crisis.
It followed French President Nicolas Sarkozy's promise last week to bail out his country's auto industry if it did not move jobs out of France.
But Topolanek said any hint of a split between Sarkozy and his EU colleagues was "rather more a media thing than reality."

"There's not all this Topolanek against Sarkozy stuff," he said. "I know in the media, it looked as though we have very different views, but in the discussion things turned out quite differently."
Barroso said European leaders agreed to draw up a framework to govern their countries' efforts to escape the global slump, and Sarkozy "explicitly supported" the guidelines.
E-mail to a friend

All About Gordon Brown • European Union • Nicolas Sarkozy