By Kevin Voigt and Yoko Wakatsuki





TOKYO, Japan (CNN) -- Steeped in a recession, with a surge in bankruptcies and sentiment among its largest manufacturers at a record low, Japan is expected to announce ¥15 trillion ($150 billion) in extra spending Friday.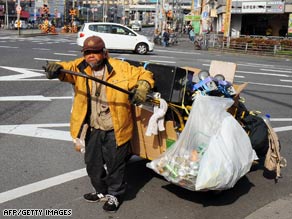 A homeless man pulls his cart filled with possessions and goods for recycling on March 18 in Osaka, Japan.
The stimulus plan is meant to keep Japan's economy from cracking open, coalition party officials told CNN. It is the biggest-ever supplemental budget to boost the ailing economy.
The officials did not want to be identified because details of the package were under negotiation Thursday.
Japan, the world's second-largest economy, has been hit hard by the global financial slump. Although Japanese banks were spared the brunt of the credit crisis, the drop in exports to the United States has sent the country into its worst recession since World War II.
Prime Minister Taro Aso needs the package to boost Japan's economy and his government's popularity.
"This could help save his life as prime minister," said Satoru Ogasawara, a Tokyo-based economist for Credit Suisse. The Aso government's approval rating fell below 10 percent two months ago, but has been buoyed by the stimulus package and the recent North Korea rocket launch, Ogasawara said.

Watch an outline of proposed spending »
If approved, the package could add two points to the country's gross domestic product, Ogasawara said. But its long-term impact remains an open question.
"It will help the economy from collapsing from this point ... (but) unless the package improves productivity or increases demand, it will be a short-term fix," Ogasawara said.
Jesper Koll, president and chief executive of TRJ Tantallon Research Japan, said the stimulus package was unlike the ¥12 trillion injections into the economy in the past eight months.
"This is the first designed with real business input, and that's reflected in the package," he said, referring to a series of meetings Aso held with business leaders last month. "That's outside the normal technocratic, bureaucratic fix. ... It isn't just pork-barrel money for the boys."
Koll cites details of the plan -- such as tax breaks for gift-giving and environmentally friendly cars, or measures to increase employment in health care -- as a step forward.
"This goes way beyond grand-standing fiscal policy. It's very specific. For Japan, that's something," he said.
Among the package's highlights:
-- ¥1.9 trillion for unemployment benefits and the promotion of job sharing.
-- ¥3 trillion to boost struggling companies.
-- ¥1.6 trillion to promote green initiatives, such as the purchase of environmentally friendly cars and energy-efficient electronics.
-- ¥2.6 trillion for infrastructure, such as airport runways, train networks and road extensions.
-- ¥1.7 trillion for health and welfare.
The Bank of Japan's quarterly Tankan survey showed sentiment among large manufacturers plunged to minus 58 in March, from minus 24 in December. The previous record low for the survey was minus 57, reached during the oil-shock era of the mid-1970s.
The Tankan survey is a forward-looking and extensive indicator of the state of Japan's economy. It gauges how global exporters in Japan -- such as Toyota and Honda -- feel about the business conditions in which they operate.
The proposed stimulus package sent stocks rising for companies thought to benefit. Sharp, a major manufacturer of solar cells, saw its stock rise more than 7 percent.

Japan markets also were buoyed by surprise data that showed core private-sector machinery orders -- a leading indicator of corporate capital spending -- rose by 1.4 percent in February, the first increase since June.
Overall, the Nikkei is up 22 percent after hitting a 26-year record last month.
E-mail to a friend