(CNN) -- Switzerland's largest bank will shed nearly 9,000 more employees as it tries to recover from the global financial crisis, its CEO said Wednesday.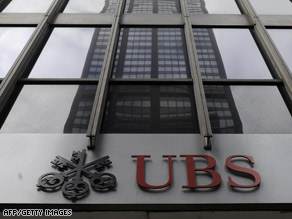 UBS is anticipating a first-quarter loss of $1.75 billion.
The announcement by UBS Chief Executive Officer Oswald Grubel came at the company's annual general meeting in Zurich.
"We know where we have to set to work," Grubel said in the text of speech released before the meeting. "It will be a long road back to success without any quick fixes. Rather, we will move forward step by step in a rigorous and disciplined manner."
First-quarter results won't be announced until May 5, but the banking giant is forecasting a loss of 2 billion Swiss francs ($1.75 billion). UBS is coming off losses totaling 19.7 billion Swiss francs ($17 billion) for 2008.
"Unfortunately, I am not able -- as yet -- to offer you any good news," Grubel said. "Instead, I am forced to present you with another round of unsatisfactory performance figures and to announce further drastic measures."
Those measures include reducing the number of employees from 76,200 to about 67,500 in 2010. UBS earlier announced job cuts of more than 2,000 in 2009.
A significant number of the job losses have come in the company's investment bank unit, which suffered the largest exposure to the collapse of the U.S. subprime mortgage sector.
UBS will continue to reduce risks, Grubel said, and will maintain its core businesses in international wealth management, Swiss banking, global investment banking and asset management.
E-mail to a friend

All About UBS AG • Business • Financial Markets