By Grace Wong
For CNN





LONDON, England (CNN) -- With the global economy in the dumps and unemployment at or near double-digits in the U.S. and across Europe, the job market is more competitive than ever before.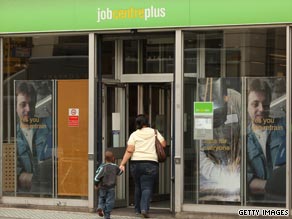 Amid heavy job losses, it's important more than ever before to have the right skills and training.
Even if you feel secure in your position, you need to make sure your skills are up to date with the market if you want to maintain a competitive edge, career experts say.
"You need to be absolutely up to speed with what employers want, and if there's any skills gap, you need to plug it right away," says Corinne Mills, managing director of Personal Career Management.
But investing in your education doesn't have to drain your wallet. In times like these, there are several ways to get the training you need and advance your career on a budget.
1. Tap resources in your workplace
Many companies offer professional development courses or will subsidize training programs for specific qualifications.
But during a downturn, training budgets are oftentimes the first to get slashed. "Investment in people development is one of the first things that will go," says Mills.
But you can still take advantage of the resources in your workplace to broaden your skill set. Arranging to spend time shadowing someone in another department is one easy way to gain exposure to a different field and hands-on experience.
It's a win-win for you and your company, says Mills. "It shows you're keen and it doesn't cost them a thing." Read more about how to enhance your career
2. Get involved in your community
When it comes to tapping resources, don't limit yourself just to the office. Volunteering for a community organization can be a great way to develop management and leadership skills.
You can undertake new tasks and shoulder responsibilities that you may not normally at work when you join a school committee, for instance, says Jennifer Parkin, a consultant at The Work Foundation, a non-profit research-based consultancy.
If you're going to pay for training...
Do keep an eye on the future -- Find a program that won't just help your career today but also supports your long-term goals.
Do conduct due diligence -- Check the credentials of any program, talk to past participants and see if the program fits your learning style.
Do tap funding resources -- See if your company will cover some of the costs or if you qualify for government funding.
Don't set unrealistic goals -- A two-day course is unlikely to miraculously transform your career and fix all your career problems.
Don't take on loads of debt -- Spending money you don't have is risky in these uncertain times. Borrow money only if the training essential to your career.
Don't take a course with no practical component -- Make sure the course will equip you with skills you can use directly on the job.
You may not get paid for volunteer work, but the experience can pay off down the line. "Employers are always interested in experience you've gained outside of work," she says.
3. Train online
"You do not have to pay for training. There is a remarkable amount of online information that's free," says executive-career consultant Wendy Enelow.
She recently offered an online resume writing class for free and experts in other fields are offering free tutorials on the Internet all the time, she says.
The tutorials, newsletters and articles available on the Internet cover a range of skills and industries, from technical knowledge like IT skills to personal management know-how such as learning how to better manage your time and boost your productivity, she says.
4. Learn from the best
In addition to courses and tutorials, blogs are another great online resource, says Enelow. "There's a wealth of information from people who are thought leaders in their respective fields."
Even chief executives have joined the bloggerati, which is great if you're looking to gain insight from influential voices in your field.
Billionaire entrepreneur Mark Cuban regularly riffs on the business of technology (a recent post addressed the problem of Twitter Search) and more on his blog, and Thomson Reuters CEO Tom Glocer is one of the few major players in media to blog from the executive suite.
5. Find a mentor
Even better than learning from a leader from a distance is finding one who you can consult with in real life.
See if your company has a mentoring scheme set up within the organization. Even if there isn't a formal program in place, there's nothing to stop you from contacting someone who you'd like to learn from and asking to arrange a meeting.
Meaningful conversations about how leaders got to their position and how they overcame any obstacles along the way can be a great learning resource, says Parkin from The Work Life Foundation.
"Sometimes a recession is a good thing because people tend to focus on meaningful discussions and reflect on their own abilities and strengths and weaknesses," she says.
E-mail to a friend

All About Jobs and Labor • Education • Unemployment Rate