(CNN) -- Boosting Prospects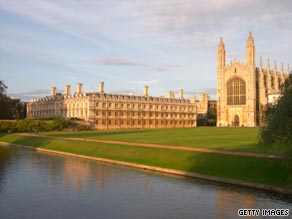 King's College, Cambridge University, at dusk. Why are so many students from the Middle East appying to study in the UK?
The UK is witnessing record numbers of university applications from the Middle East.
Students are seeking a university education from the UK in order to boost their job prospects back home.
But is it just a matter of prestige? This week MME heads to Cambridge University to find out why students are attracted to the English education system.
Bassam Ghraoui, President of the Ghraoui Group
Chocolate is usually reserved for Belgium, France and Switzerland. Now a Syrian Chocolatier aims to export his product to Europe and raise the profile of the tiny Syrian industry.
Bassem Ghraoui's family was the first to manufacture chocolate in the Middle East. MME takes a tour of the Ghraoui factory and looks at whether its brand can truly compete in the European market.
Watch the show this week at the times below:
Friday: 0915, 1945
Saturday: 0645
Sunday: 0815 (all times GMT)
E-mail to a friend