By Mark Tutton
For CNN






LONDON, England (CNN) -- With fears over job security and widespread pay freezes, recession can prompt some people to think about starting their own business. And despite the common perception, for the right start up, it could be the perfect time to go it alone.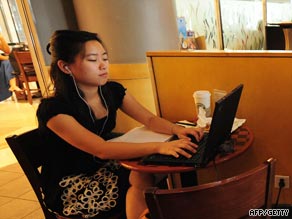 Working from home can reduce overheads for new businesses.
"People automatically assume it's a bad idea to start out in a recession, but for a great many businesses it's much the best time to start," David Lester, founder of startups.co.uk and author of "Start Your Own Business: the Good, the Bad and the Unexpected," told CNN.
Lester says there are valid reasons to be cautious, including a lack of demand in some sectors, but that needn't put off budding entrepreneurs.
"People need to be clear about their expectations and be sure there is still sufficient demand for their business," he said.
"As long as that caveat is well understood, it's an absolutely amazing time to start a business."
So if you think the time has come to be your own boss, here's some advice from the experts.
1. Make the most of low costs.
The recession means business start-up costs are lower than in boom times. Lester started his first business during a recession and says it meant he could afford employees who would otherwise have wanted too much money, or found other jobs. It also meant he could rent office space for substantially less money and that his advertising budget went much further.
"For almost all business that start up it takes longer to build sales than they expect, but if you can adjust expectations it's much cheaper to start in a recession and work towards a long, slow build," he told CNN.
2. Be efficient.
Sophie Kummer, of the Federation of Small Businesses, says that if you can work from home you may be able to reduce your running costs. And if your employees can do the same, you can do without office space altogether.
"Working from home means you don't have to pay overheads," Kummer told CNN. "The recession is also a good time to think of energy efficiency -- fighting climate change and saving money go hand in hand."
3. Take strength from adversity.
Hayley Williams, of the National Federation of Enterprise Agencies (NFEA), says the pressures of recession can help focus your business mind.
"When times are good it can be tempting for someone to start a business without thinking it through," she told CNN.
She says that in a recession it's more important than ever to have the right product, mind set and support, but that need for solid foundations will stand you in good stead for the future.
Williams said that at a recent NFEA conference, Josephine Fairley, the co-founder of Green & Black's chocolate, explained that her business had been made stronger by starting in the recession of 1991, simply because the tough economic environment meant it had to be.
4. Test the waters.
Williams says a big trend is for people to start a business in their spare time, working on them in the evenings and at weekends. She says it can help keep down costs, as part-time enterprises are usually run from home, and adds that some people will use the experience to realize that self-employment is not for them.
"The recession means that some people are playing it safe, making sure they can build a business on sound principles before quitting their job and going it alone," Williams told CNN.
"In the next few years we're hoping to see some of those businesses that have started part time developing into fully fledged businesses."
5. Think local.
Buying from local suppliers and encouraging shoppers to buy locally can build customer loyalty, says Kummer. Equally, taking the time to build relationships with local suppliers will build trust and could help you to get better deals.
6. Manage costs and cash flow.
Because some big businesses are struggling to get credit and are experiencing cash-flow problems, the small firms supplying them may find themselves kept waiting for sorely needed payments.
"Some big businesses will lean on smaller suppliers, using small businesses as a kind of credit. To prevent late payments you must be very clear about which date you need to be paid by," Kummer said.
7. Be nimble.
Lester says that businesses starting in a recession need more cash reserves than in other times, and he stresses the importance of being flexible.
"Don't commit to a five-year lease on an office -- there's plenty of very short term office space around. Rather than taking on a lot of employed staff, work with consultants and freelancers," he said.
E-mail to a friend