By Mark Tutton
For CNN





LONDON, England (CNN) -- Anyone who has spent an afternoon making paper chains as part of a corporate team-building exercise will know that it takes more than a few cheap props and a buffet lunch to break out of the workplace rut.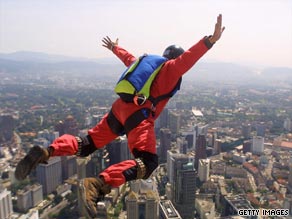 Corporate team building is moving out of the office and incorporating high-adrenaline activities.
That's why corporate training events are venturing out of the office and into the great outdoors.
Companies specializing in corporate training are now offering such high-adrenaline pursuits as cliff jumping and tank driving as ways to develop new skills and build interpersonal bonds.
Among the more radical events used in corporate training is fire walking, which has people walking barefoot over hot coals.

See other popular extreme bonding activities »
Peggy Dylan has been has been teaching fire walking to individuals and corporate clients for more than 25 years with her company Sundoor. Sundoor's Cindy Bond told CNN that businesses use fire walking as a way of helping employees to reach their full potential.
"In a corporate setting people can feel like they don't have the power to achieve something," she said. "It can be a place of real stagnation and that can drag a company down."
Read more business related features
"What I've seen people getting out of fire walking is the realization of their potential and capacity. When they think 'if I can do that I can do anything,' it can add new life to their job."
Dylan's corporate training also involves arrow breaking, in which a participant places the tip of a specially made practice arrow against their throat, and the other end against a board.
The participant, who has been asked to identify a workplace fear and create a vision, then steps towards the board, "moving towards their vision" and snapping the arrow. The exercise is designed to help workers to breakthrough their fears, said Bond.
Don't Miss
Lindsey Masson, director of executive coaching at Ashridge Business School, told CNN that while teaching at Ashridge focuses on actual business issues, others use outdoor events like mountain climbing as a way of getting employees out of their typical environment and seeing how they respond, before showing them how to translate the experience back to their work setting.
That's typical of the thinking behind many team-building programs -- having fun can serve a serious purpose. Kirsten Kindt of the Association of Experiential Education told CNN that the real value of these kind of events is that they allow workers to get a different perspective of each other's strengths and weaknesses.
"When people are in the office they can get in a rut in terms of how they interact with each other," she said.
"Things like teaching survival skills can build bonds and team cohesion. They make people come together, discover the skill sets other people have, and work together to get a result."

While it doesn't offer fire walking, Experience More runs team-building events that include a stuntman workshop and a "military challenge" that involves jungle survival training and tank driving.
In case you were wondering the workplace value of a stuntman workshop, Experience More says "it teaches communication skills, team awareness, problem solving, group identity, trust, and builds confidence."
E-mail to a friend