By Mark Tutton
For CNN






LONDON, England (CNN) -- Technologies that let employees work remotely have given rise to a growing phenomenon -- virtual internships.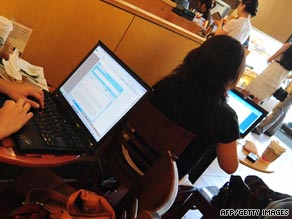 Virtual interns can work from the comfort of a coffee shop.
Businesses are realizing that commonplace Internet technologies like email, instant messaging -- which can also enable video chats -- and social media can be used to free interns from the confines of the office.
For students, new graduates and career switchers looking to work in a different industry, working as an intern can be a valuable way of gaining work experience, and the flexibility afforded by remote working is opening up a world of new possibilities.
Virtual interns don't have to be in the same city as their employer. They don't even need to be in the same country. And the ability to work in your own time opens up the possibility of being a virtual intern even if you're already holding down a full-time job.
New York-based Urban Interns is an online marketplace that matches interns with small businesses. Last month, 24 percent of positions posted on its site were for virtual positions -- up from nine percent in August.
Urban Interns co-founder Cari Sommer told CNN that one of the advantages of virtual internships is that they remove geographical barriers, letting interns gain experience with a firm that could be based thousands of miles away. That's ideal for those who want to break into a niche industry, which may not be represented in their local area.
What do you think of virtual internships? Here to stay or doomed to fail?
"It's very exciting to think there's this shift going on and that location is not going to be as important," Sommer told CNN.
Don't Miss
"Virtual interns allow business owners to connect with a talent pool that's not in their area. That's especially useful in the small business community, where a lot of organizations don't have the budgets to fly around and hire people."
Ting Ting Guo, a final year Columbia University student, posted her resume on Urban Interns in July and the site was so impressed they offered her a position as a virtual intern with them.
Her work involves marketing and advertising, including email and phone marketing, and attending networking events to promote the business.
Having had previous experience as an office-based intern, Guo told CNN she prefers the virtual approach, and says working remotely has been a valuable experience for her.
"I feel like I've learned a lot about how to work independently," she said.
"There's not always someone there to tell you how to do something. They give you a guide and help you develop your own way of doing things, and that's made me a more efficient worker."
Guo works around four hours a week now that school's started, but was working about between 10 and 20 hours a week in the summer. She says that kind of flexibility is one of the big attractions of working remotely.
Enternships is a London-based Web site that provides work placements with start ups and small businesses. CEO Rajeeb Dey told CNN that about a third of the internships advertised on his site are virtual, or have the option of being virtual, which means the site typically has about 30 virtual placements on offer at any given time.
Dey says sales-based roles or market research positions are ideal for virtual interns and that remote work placements are especially suitable for startups that lack office space or web startups that are "virtual" companies in their own right.
While the majority of the would-be interns on his site are students and graduates, some are workers who want to change industry.
But Dey acknowledges that the fact an intern isn't working in the same office as their employer can bring its own difficulties.
"You are putting faith in that person to be diligent and work virtually for you -- it's kind of a risk you take," he told CNN.
To make a virtual internships run smoothly Dey says it's helpful to initially meet face to face, or if that's not possible, to hold an initial video chat to build a rapport between business and intern.
He agrees that working remotely means that interns don't get to experience the bustle of an office environment or shadow other workers, but Sommer says that one way round that is to have a "semi-virtual" internship, where an intern works remotely but still comes into the office for weekly or bi-weekly meetings.
Guo says daily email contact and weekly meetings with Sommer mean she doesn't feel isolated from her employers.
She told CNN, "I'm learning how to be an independent worker, and also learning from their [Urban Interns] experiences, even if it's not face to face."
E-mail to a friend