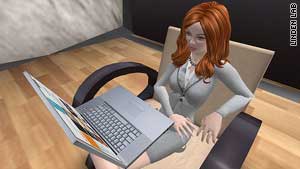 Second Life lets workers collaborate in virtual worlds.
STORY HIGHLIGHTS
Second Life Enterprise is designed to let businesses hold virtual gatherings
IBM's Sametime 3D and Google Wave also enable virtual collaboration
Workers need to learn that what works in a real workplace may not be right for the virtual world
London, England (CNN) -- As travel budgets are squeezed and slashed in the recession, companies are increasingly seeking innovative ways of bringing employees together for conferences and meetings remotely.
Virtual community Second Life is seeking to tap into that market by creating a new tool that allows businesses to have virtual meetings on their own computer networks.
The company's Enterprise tool will let employees' avatars -- animated alter egos -- meet in virtual worlds from the privacy of a company's own network, rather than the public networks used in standard Second Life. That extra security could encourage more companies to take up the technology.
The ability to collaborate effectively using virtual tools may now become an increasingly important skill as technology offers more options than, say, video conferencing.
According to Linden Lab, creators of Second Life, more than 1,400 organizations -- including large companies, educational institutions, government agencies and even the U.S. military -- use Second Life to hold meetings, conduct training and prototype new technologies more efficiently.
Many companies are using virtual worlds, and these can give a sense of place.
--Surinder Kahai, Binghamton University
Linden Lab says 14 companies are currently using Enterprise in its beta phase. One of those companies is IBM, which is an old hand when it comes to Second Life.
Rashik Parmar, IBM's chief technology officer for Europe, told CNN that last year about 350 of its technical leaders from around the world met for 72 hours via Second Life to brainstorm about new technologies.
"We had a whole range of environments, from auditoriums and collaboration pods to social areas where the avatars could pick up a beer around a log fire, or walk around a sculpture park and talk," Parmar told CNN.
IBM sells its own virtual meeting tool, Sametime 3D, which allows businesses to share ideas and collaborate in a 3D world, and the company is currently testing a more advanced version of the product.
Parmar told CNN that he recently held a meeting with 12 technical leaders from across Europe and Asia. While that would typically involve flying everyone to a central location, he said the meeting was held using the new Sametime 3D.
"Not only did we save travel time, but because the environment was so engaging, a lot more ideas came through," he said.
But virtual collaboration doesn't only involve virtual worlds. Tools like "Dropbox" allow online file storage and sharing, while "Basecamp" lets users to collaborate on projects online.
"Google Wave" was announced in May, but is currently only available by invitation. It's a real-time communication tool that allows, among other things, multi-user conversations and file sharing, and it could become a staple of virtual collaboration.
But if companies are to make the most of virtual collaboration, employees will have to learn that what works a bricks-and-mortar workplace may not be right for the virtual world.
Surinder Kahai is associate professor at Binghamton University School of Management, New York. He told CNN, "I've seen people mess up completely because they think that what works in a face-to-face environment also works in a virtual environment."
He says one problem is that virtual teams may not share national and organizational cultures, and that virtual workers should make a conscious effort to see things from their colleagues' point of view. Share your stories from Second Life
Another issue is that virtual teams can't take advantage of the kind of impromptu "water cooler" conversations that occur in a real workplace, where colleagues can share information they may have forgotten to communicate in meetings.
Kahai says that lack of human contact can also lead to feelings of isolation, but adds that virtual worlds such as Second Life can help by recreating the water-cooler experience.
"Many companies are using virtual worlds, and these can give a sense of place," Kahai told CNN. "You can hang out, run into someone, and have ad-hoc conversations with people." Getting employed in Second Life
Even in this era of remote collaboration, it seems that we still need human interaction -- even if it's completely virtual.