By Bill Mears
CNN Supreme Court Producer





WASHINGTON (CNN) -- Justice Ruth Bader Ginsburg was back on the Supreme Court bench Monday in her first public appearance since undergoing surgery for pancreatic cancer February 5.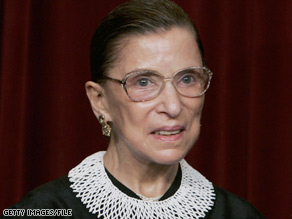 Justice Ruth Bader Ginsburg, 75, entered the courtroom Monday smiling broadly.
Ginsburg, 75, entered the courtroom with her eight male colleagues as they prepared to hear oral arguments after the high court's monthlong recess. She walked in unassisted and was smiling broadly.
It was business as usual, with the justice making no statements or gestures, and the court offering no acknowledgment of her return. The session was gaveled to order at exactly 10 a.m.
Ginsburg sat intently through the morning's two cases, each lasting an hour. She appeared focused and engaged in the public session, asking several pointed questions of the lawyers appearing before the court.
The health of some members of the nine-member court has been a political topic in recent years. Ginsburg's recent cancer diagnosis has renewed speculation President Obama might soon have an opportunity to name perhaps several justices.
Over the weekend, Republican Sen. Jim Bunning of Kentucky suggested Ginsburg could die this year.
In remarks at a Hardin County Republican Party dinner, the Courier-Journal newspaper reported Bunning as saying that pancreatic cancer is "bad cancer. The kind you don't get better from," and that the longest most patients live is nine months after diagnosis, even with surgery.
His comments were in contrast to statements from Ginsburg's doctors, who have offered a somewhat optimistic prognosis for her recovery.
Pancreatic cancer typically is one of the most lethal of cancers, primarily because it usually is not diagnosed until it has reached an advanced stage. But hers was discovered in the earliest stage of the disease, and doctors said it had not spread.
Court sources said Ginsburg's surgery 18 days ago went well and that doctors and the family are cautiously optimistic.
Bunning -- who said he plans to seek re-election next year for a third term -- also said he supports conservative judges, and that's going to be an issue very shortly because "Ruth Bader Ginsburg ... has cancer."
Ginsburg is considered one of the more liberal members of the bench.
Senators have the power to confirm or reject the president's nominees to the federal bench, including the Supreme Court.
After her release from Memorial Sloan-Kettering Cancer Center in New York on February 13, Ginsburg worked on the court's caseload from home, sources close to her said. She had been diagnosed shortly after attending the presidential inauguration, those sources said.
Ginsburg previously underwent surgery for colorectal cancer in September 1999. She is the second oldest justice on the high court, after 88-year-old Justice John Paul Stevens. She was named to the high court in 1993.
E-mail to a friend

All About Ruth Bader Ginsburg • U.S. Supreme Court • Pancreatic Cancer