LOS ANGELES, California (CNN) -- Dangerous cocktails of prescription drugs were pumped into Anna Nicole Smith "almost to the point of stupefaction" and eventually led to her death, California Attorney General Jerry Brown said Friday.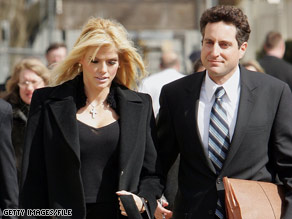 Anna Nicole Smith's boyfriend Howard K. Stern was among those charged Thursday.
Brown called Smith's longtime partner and attorney Howard K. Stern the "principal enabler" in a conspiracy with two doctors for giving the "known addict" thousands of prescription pills.
Stern and a doctor were jailed on charges of conspiring to furnish drugs before her death in 2007, authorities said.
"Stern and Dr. Sandeep Kapoor were arrested and later released from a Los Angeles County jail Thursday night after each posted a $20,000 bond, a police spokesman said.
Dr. Khristine Eroshevich also faces charges and is expected to turn herself in Monday, authorities said.
The doctors and Stern devised a plan to use fake names so Smith could be prescribed "thousands of pills," Brown said.
Her doctors knew she was addicted and gave her drugs "excessively," Brown said.
"The quantity of the drugs, the variety of the drugs, the combination at any given point and her continuing to use that; that, to a professional, is clear evidence of addiction," Brown said.
"These cocktails of methadone and antidepressants and sleeping pills and Xanax, you put all that into a cocktail, it explodes and can cause death, injury and permanent morbidity and disability," he said.

Watch Brown speak to the media »
Brown said he hoped the charges send a loud and clear message.
"Doctors do not have a license to pump innocent and often vulnerable people full of dangerous chemicals," he said.
Smith, 39, was pronounced dead February 8, 2007, after being found unconscious in her hotel room at the Seminole Hard Rock Hotel & Casino near Hollywood, Florida.
The former Playboy playmate and reality TV star died from an accidental overdose of prescription drugs, a coroner said. Several prescription medications -- both in Smith's and Stern's names -- were found in the room after her death.
Officials said prescription and over-the-counter drugs were found in Smith's system, including three antidepressant or anti-anxiety drugs. Also found in toxicology testing was human growth hormone and chloral hydrate, a sleep medication, officials said.
Stern and Kapoor, both 40, and Eroshevich, 61, each were charged with eight felonies, including conspiring to furnish controlled substances, unlawfully prescribing a controlled substance and obtaining fraudulent prescriptions from June 2004 to January 2007 -- only weeks before Smith's death.
Kapoor and Eroshevich also were each charged with obtaining a prescription for opiates by "fraud, deceit or misrepresentation." And each was charged with one count of obtaining a prescription for opiates by giving a false name or address, according to the Los Angeles District Attorney's Office.
Don't Miss
Smith was buried in the Bahamas on March 2, 2007, next to the grave of her son, Daniel, who had died in September 2006, days after the birth of her daughter, Dannielynn.

Brown said his office will aggressively target California doctors who over-prescribe dangerous drugs.
"People think those drug dealers on the street corners are the only threat," he said. "As a matter of fact, people in white smocks and pharmacies and with their medical degrees are a growing threat, and we aim to curtail it and curb it in the best way we can."
E-mail to a friend

All About Los Angeles • Howard K. Stern • Anna Nicole Smith