WASHINGTON (CNN) -- A rifle-wielding white supremacist entered Washington's Holocaust museum on Wednesday afternoon, fatally shooting a security guard before being wounded himself by return fire from other guards, authorities said.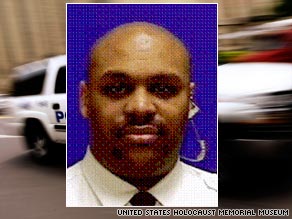 Stephen Tyrone Johns was shot and killed while working at the U.S. Holocaust Memorial Museum on Wednesday.
Stephen Tyrone Johns, a six-year veteran of the museum's security staff, later "died heroically in the line of duty," said Sara Bloomfield, museum director.
Law enforcement sources identified the suspect as James W. von Brunn, an 88-year-old white supremacist from Maryland.
He is a known Holocaust denier who created an anti-Semitic Web site called "The Holy Western Empire." He has repeatedly claimed "The Diary of Anne Frank," a widely read book about a teenage girl's experiences under Nazi rule, was a hoax.
The museum shooting occurred on a day the museum was to stage a play based on Anne Frank and two days before what would have her 80th birthday.
Investigators found a notebook in the suspect's car listing other locations in Washington, a federal official told CNN. It was unclear what purpose the list served.
Von Brunn allegedly entered the U.S. Holocaust Memorial Museum at 12:50 p.m. Wednesday and immediately shot Johns with a rifle, said Chief Cathy Lanier of the District of Columbia's Metropolitan Police Department. Two other security guards returned fire, according to Lanier and the museum statement.
Both Johns and Von Brunn were taken to George Washington University Hospital, said D.C. Mayor Adrian Fenty. Johns died at the hospital. Von Brunn was in critical condition, Fenty said.
Johns, 40, was a resident of Temple Hills, Maryland, according to a statement issued by Wackenhut Services Inc., which has provided security services at the museum since 2002.
"Obviously there are no words to express our grief and shock over the horrific event that took place at this museum today," Bloomfield, the museum director, said.

Witnesses: 'Panic' inside museum »
She said the museum was closed for the remainder of the day and would remain closed Thursday in honor of Johns.
Brunn served six years in prison for trying in 1981 to kidnap Federal Reserve board members because of high interest rates. He blamed his prison term on a "Negro jury, Jew/Negro attorneys" and "a Jew judge," he said on his Web site, "Holy Western Empire."
The Southern Poverty Law Center, which focuses on human rights, said Brunn has "an extremely long history with neo-Nazis and white supremacists."
A place that stimulates visitors to confront hatred and promotes peace and human dignity, the Holocaust museum on Wednesday became the scene of everything that was opposite.

See more photos from the scene »
Witnesses described blood on the floor and chaos within the museum's halls.
Visitor Maria Hernandez told CNN she heard five shots and saw the wounded security guard.

Watch Maria describe what she saw »
"It was definitely a security guard; he was down bleeding on the floor," said Hernandez, 19. "He was face down. His back ... blood was coming out."
Sirens blared as emergency vehicles converged on the area, which is near the Washington Monument and other popular tourist attractions. The museum was full at the time, with a "couple of thousand" people inside, said William Parsons, chief of staff at the museum.

See where the museum is located »
"Never take your guard force and security people for granted," he said. "They did exactly what they were supposed to do to protect people in the museum."

Law enforcement analyst talks about how this could have happened »
Dave Pearson, a sixth-grade teacher in the Washington area, said he was on the museum's fourth floor when he heard a loud noise.
"At the time, we're visiting and all of a sudden there's like a boom, and all of a sudden they told us to stop where we're at," he told CNN. "Only thing we heard was a boom, and that was it."

Watch another museum visitor tell what he saw »
An FBI official said there was no prior warning or threat against the museum. In a later statement, the FBI said members of its National Capital Response Squad and Joint Terrorism Task Force are taking part in the investigation.
Lanier said the area around the museum was checked by bomb-sniffing dogs as a matter of routine.
The shooting sent shock waves throughout the nation's capital and elsewhere.
"I am shocked and saddened by today's shooting at the U.S. Holocaust Memorial Museum," said President Obama, who just days earlier had spoken emotionally about the Holocaust when he visited Buchenwald, a former Nazi concentration camp with Holocaust survivor and Nobel Peace Prize laureate Elie Wiesel.
"This outrageous act reminds us that we must remain vigilant against anti-Semitism and prejudice in all its forms," Obama said Wednesday. "No American institution is more important to this effort than the Holocaust Museum, and no act of violence will diminish our determination to honor those who were lost by building a more peaceful and tolerant world."
Israel issued a statement through its embassy, expressing sadness and condemning the attack.
Fenty called the shooting "an extremely isolated incident" in the nation's capital, which is a major tourist destination.
"In these days and times, you never know when someone is going to grab a gun and use it in an inappropriate way," he said.
The museum canceled a performance scheduled for Wednesday night of a play about racism and anti-Semitism, based on a fictional meeting between Anne Frank and Emmett Till, the teenage victim of a racist killing in the United States.
U.S. Attorney Gen. Eric Holder and Rep. Steve Cohen, D-Tennessee, were among those planning to attend the play, which was written by Janet Langhart Cohen, the wife of former Defense Secretary and U.S. Sen. William Cohen.
Langhart Cohen told CNN that Anne Frank's young life was ended by people filled with hate. She said it was hard to see that same hate manifest itself at this place of remembrance.

E-mail to a friend

CNN's Lindy Royce contributed to this report
All About United States Holocaust Memorial Museum