From Paul Courson
CNN






WASHINGTON (CNN) -- A federal judge Wednesday questioned a decision by a former U.S. State Department employee and his wife to use the same team of attorneys to fight charges of spying for Cuba.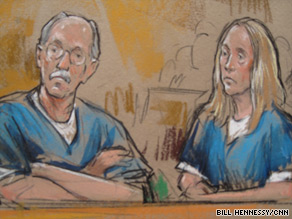 Walter Kendall Myers and his wife, Gwendolyn, appear in court last week in an artist's rendering.
"One may not be as culpable as the other," said U.S. District Judge Reginald Walton at a status hearing. Walton advised the couple that joint representation could put one of them at a disadvantage.
Walter Kendall Myers, 72, and his wife, Gwendolyn, 71, are charged with conspiracy to act as illegal agents of the Cuban government, wire fraud and providing classified information to Havana, according to court documents.
The couple said they want the same defense team.
"I believe it is in our interest to have joint representation," Kendall Myers told the judge. His wife quickly added, "I do also."
The judge accepted that they understood their decision.
The two, who were wearing dark-blue prison jumpsuits, are being held in separate cells at a detention center in Washington.
Don't Miss
Myers retired from the State Department in October 2007. A senior State Department official described him as an "upper-level civil service employee" at the Bureau of Intelligence and Research.
He viewed more than 200 classified reports on Cuba in his final months; at the time, he was an analyst on European issues, court documents said.
U.S. officials did not discuss the Myerses' motives for their alleged work for the Cuban government.
Conviction on the wire fraud charge would carry a sentence of up to 20 years, while illegally acting as an agent of a foreign government would carry a sentence of up to 10 years, and the conspiracy charge would carry a sentence of up to five years.
After the hearing, defense attorney Thomas Green confirmed that the evidence will include secret materials that will be the subject of discussions with prosecutors and Walton.
The Myerses have been held without bail since pleading not guilty.
Walton said Wednesday he would review a defense request to negotiate a more lenient detention for the couple.
During a June 10 hearing, prosecutors said the Myerses have ample assets and a boat, and had discussed the possibility of sailing to Cuba.
After their arrest June 4, a friend confirmed to CNN that they had mentioned interest eventually in being able to travel to Cuba via their yacht, which is docked at a Maryland marina about 30 miles from Washington.
Green has said his clients are willing to surrender their travel documents as a condition for their release pending trial.
A new status hearing was set for July 24, but Walton left open a possible detention hearing based on further arguments due from prosecutors that the defense may wish to challenge.
A trial date has not been scheduled.
E-mail to a friend

All About U.S. Department of State • Cuba