(CNN) -- A company that sold firearms merchandise to the Virginia Tech and Northern Illinois University shooters also sold firearm accessories to a man who fatally shot three women in a Pennsylvania gym earlier this week.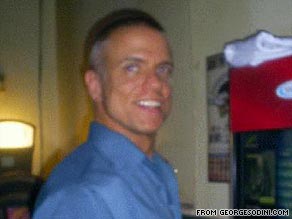 George Sodini purchased gun accessories from Web sites that sold to shooters in other high profile incidents.
TGSCOM Inc. sold George Sodini a Glock magazine and a Glock magazine loader, company president Eric Thompson told CNN.
The company is based in Green Bay, Wisconsin, and sells firearms on dozens of Web sites it operates, including shotgunworks.com, which Sodini used to purchase the gun accessories on April 26, 2008, Thompson said.
Thompson said the company had no contact with Sodini and had no other receipts indicating he had ever purchased anything else from the company.
A gun purchased online must be shipped to a local federally licensed gun dealer for delivery to the purchaser.
There, the purchaser must undergo whatever background checks, waiting periods or other limits are required by federal, state and local laws before taking possession of the weapon.
Pennsylvania law has no requirement for a permit or license to purchase a handgun.
However, it does require a license to carry a concealed weapon or carry one in a vehicle. In addition, the state does not require that guns be registered or that a waiting period be observed. State law does require a criminal background check to purchase handguns. The state prohibits cities and counties from enacting gun laws more stringent than state law.
Authorities say Sodini walked into a gym aerobics class outside Pittsburgh, Pennsylvania, and began shooting around 8 p.m. Tuesday, killing three women and wounding nine others before turning the gun on himself.
It was not immediately clear if Sodini used the accessories he bought from TGSCOM Inc. in the attack.
Two other shooters had used Web sites operated by TGSCOM Inc. to buy gun merchandise: Steven Kazmierczak, the NIU gunman who killed five students before turning the gun on himself on February 14, 2008, and Virginia Tech shooter Seung-Hui Cho.

Kazmierczak had purchased two Glock 9 mm magazines and a Glock holster from www.topglock.com, and Cho bought a Walther P22 pistol from www.thegunsource.com.
Thompson said in a statement referring to Sodini that he was "deeply saddened by the tragic loss of life at the hands of a disturbed and socially stunted man."
E-mail to a friend

CNN's Kristen Hamill contributed to this report.
All About George Sodini • Murder and Homicide