(CNN) -- A man authorities believe has robbed at least 10 banks in at least four states was arrested in Missouri after a retired state trooper saw him and learned he was wanted, authorities said Sunday.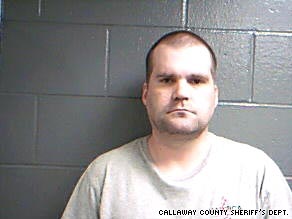 Schaffner is seen in a police mug shot after his arrest Saturday in Kingdom City, Missouri.
Chad Schaffner, 37, was arrested in Kingdom City, Missouri, about 2:45 p.m. Saturday, said Missouri State Highway Patrol radio operator Paula Price.
Sam Lakey, a retired Missouri State Highway Patrol officer said he alerted authorities to Schaffner's whereabouts after seeing him at a motel in Kingdom City, about 100 miles west of St. Louis, Missouri.
Lakey didn't know who Schaffner was at first, but said he felt something wasn't right after seeing Schaffner and his car, partly because Schaffner didn't make eye contact with him.

Watch how ex-cop's hunch brought arrest »
Lakey, who was staying at the motel, said he remembered seeing news reports about a man sought in a string of bank robberies, so he looked on the Web site of the television show "America's Most Wanted" to check a vehicle description in the case. A license plate number on the site matched that of the car outside the motel, he said.
"I felt my goosebumps raising," he said.
Lakey told CNN that after calling his old colleagues at the Missouri State Highway Patrol, he packed up his family from their room at the motel and watched the arrest from across the street.
Schaffner faces charges including bank robbery in Tennessee; burglary in Indiana; armed robbery in Illinois; and receiving stolen property in Ohio, Price said. He also faces drug charges in Missouri, she said. Schaffner is suspected of robbing banks in states including Kentucky, North Carolina, South Carolina and Tennessee, according to the FBI.
Schaffner is suspected in 14 robberies of various types in six states, FBI Special Agent Brian Truchon told CNN on Sunday.
A spokeswoman for the Callaway County Jail, in Fulton, Missouri, said Schaffner was booked into the facility about 8 p.m. Saturday. No bond has been set, she said.
Schaffner will appear in court Monday in Jefferson City, Missouri, according to Bridget Patton, spokeswoman for the FBI's Kansas City, Missouri, office.
Schaffner was identified as a suspect last month after investigators posted surveillance photos from the robberies on electronic billboards throughout the South. In the photos, a man was seen sneering and holding a pistol sideways. The robberies began in May. While no one was harmed, the FBI said they considered the suspect dangerous.
Don't Miss
"This guy has made no effort to hide the gun," said FBI agent Kevin Keithley last month. "He has threatened the use of it in every bank robbery he has committed. He has put the gun in the faces of the tellers, threatened to use the gun against them. So we want to get this guy in custody before he harms anyone."
A woman in Morristown, Tennessee, also told authorities Schaffner hid in her apartment in August and threatened to kill her children if she revealed his whereabouts, according to documents filed in federal court.
When Schaffner was identified, the FBI said he was released from an Indiana prison last year following an armed robbery conviction. He also has several other convictions in Indiana, for crimes including burglary, resisting law enforcement, and purchase of a handgun without a license, according to the Indiana Department of Correction.
The last bank robbery Schaffner is suspected of committing occurred in Caseyville, Illinois, on Wednesday, according to CNN affiliate KMOV.

Two bank robberies occurred in Morristown and Jefferson City, Tennessee, on August 18, authorities said. The billboards began showing images from the robberies on August 24, and the next day, a man told the FBI that Schaffner was in the Morristown area at the time of the August 18 holdups. The man said he'd known Schaffner for about two months, according to a federal criminal complaint.
FBI agents also interviewed a Morristown woman after hearing she'd had a brief relationship with Schaffner, the complaint says. During the first interview, she spoke to agents outside her apartment and denied knowing him, the complaint said. But the next day she told authorities she knew Schaffner and that he had been in her apartment with her children while she talked to police outside. He had threatened to kill the children if she told agents he was there, the woman said.
E-mail to a friend

CNN's Marylynn Ryan, Chuck Johnston and Justin Lear contributed to this report.
All About Robbery • Federal Bureau of Investigation