NEW HAVEN, Connecticut (CNN) -- A DNA match linking Raymond J. Clark III to Yale student Annie Le led to his arrest on murder charges, a source with knowledge of the investigation said.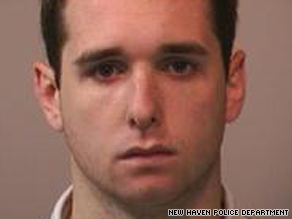 Raymond J. Clark III, 24, was arrested and charged with murder. His bail was set at $3 million.
On Thursday, New Haven Police Chief James Lewis described Le's killing an instance of "workplace violence," but he did not elaborate.
Clark, 24, has been charged with Le's murder, and bail has been set at $3 million, Lewis said.
Thursday morning, police arrested the Yale lab technician in the strangulation of Le, whose body was found in the wall of an off-campus research building.
Hours after his arrest, Clark appeared in court and did not enter a plea. Standing with chains on his ankles and his palms on the table, he looked only at the judge and spoke only to acknowledge that his rights were read to him.
A court date of October 6 was set.

Watch report on Clark's background »
Le, a 24-year-old pharmacology graduate student, was last seen alive September 8, the day she appeared in a surveillance video as she entered the four-story lab at 10 Amistad St., about 10 blocks from Yale University's campus.
Her body was found inside the basement wall of the building Sunday, on what was to have been her wedding day. She had been strangled, the Connecticut medical examiner's office determined.
The night she was killed, a fire alarm in the building was pulled, a source with knowledge of the investigation said.
When investigators reviewed security tapes from that night, the source said, they began to focus on Clark, who was seen looking distraught and holding his head in his hands.
Don't Miss
Clark's initial attorney, David Dworski, said in a statement released before Clark's arrest, "We are committed to proceeding appropriately with the authorities with whom we are in regular contact."
The public defender's office is now representing Clark.

See timeline of case »
Yale University President Richard Levin said that although the school's administration is "relieved" by the news of Clark's arrest, "we must resist the temptation to rush to judgment."
Clark, of Branford, Connecticut, is not a Yale student but has worked as a lab technician at the university since 2004 after graduating from high school. He lived with his girlfriend, who is also a Yale lab technician, according to police.

Clark had nothing in his employment history at the university that "gave an indication that his involvement in such a crime might be possible," Levin said in a statement issued Thursday.
A faculty member described Clark's job in the Animal Resources Center as maintaining colonies for animals used in research. The lab is in the basement of the building where Le's body was found.
E-mail to a friend

CNN's Randi Kaye, Tom Foreman, Mary Snow and Shirley Zilberstein contributed to this report.
All About Annie Le • Raymond Clark • Yale University • Murder and Homicide