(CNN) -- A man in the custody of Haitian authorities is believed to be a Naples, Florida, man sought for questioning in the deaths of his wife and five children, police said Monday.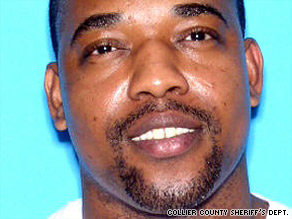 Mesac Damas pleaded no contest to misdemeanor battery charges against his wife, Guerline Damas, in June.
"The Haitian national police have picked up a subject they believe to be Mesac Damas," the Collier County, Florida, sheriff's office said in a written statement. "This individual is now in Haitian police custody."
Earlier Monday, Collier County Sheriff Kevin Rambosk told reporters that Damas, 33, was believed to be in Haiti.
The bodies of Damas' wife, Guerline Damas, 32, was found Saturday in the family's Naples home, along with those of the couple's five children -- Michzach, 9; Marven, 6; Maven, 5; Megan, 3; and Morgan, 11 months, police said. Rambosk would not say Monday how the five were killed, but described the scene as "horrific."
The sheriff's office said it was working through the FBI to confirm the identity of the person in Haitian custody "and determine the appropriate international arrangements for ... detectives to travel to Haiti to interview the man, should he be identified as Mesac Damas."

Watch a report on the hunt for Damas »
"We can have somebody there tomorrow as long as we are able to determine what official protocols need to be met," Rambosk told reporters Monday afternoon. "We're ready to go."
Police have not called Damas a suspect in the deaths. "Right now, it's an open investigation," Rambosk said earlier Monday. "We are investigating every single potential possibility with no limitations."
However, an arrest warrant was issued for Damas on charges of violating probation stemming from a January arrest for domestic violence, the sheriff's statement said, and detectives "are also working with federal officials to apply appropriate international extradition proceedings."
Don't Miss
The FBI's legal attache in the Dominican Republic notified Florida authorities that a man believed to be Damas had been taken into custody by Haitian national police, the statement said. Rambosk said earlier Monday that his office had requested help from the FBI and from U.S. Immigration and Customs Enforcement in locating Damas. He also appealed to the public for information in the case.
Authorities said Mesac and Guerline Damas had a history of domestic violence. There may have been an incident earlier than January, when Damas was arrested, Rambosk said. Collier County sheriff's Capt. Chris Roberts said Sunday that Damas pleaded no contest to misdemeanor battery charges against his wife in June. Roberts did not believe he served any jail time.
Rambosk said Monday he does not think a restraining order was currently in place regarding the couple.
Damas was last seen about 9 p.m. Thursday at the Naples restaurant where he was employed as a cook, authorities said. On Friday, he is thought to have arrived at Miami International Airport about 7 a.m. He boarded a flight for Haiti about 10 a.m., Rambosk said.
Damas' GMC Yukon Denali, found at the Miami airport, was being returned to Naples for processing, the sheriff said.
Authorities have been in contact with Damas' family, Rambosk said, but do not know if he has contacted relatives.
The Damases had been married about 10 years, Rambosk said. He did not know how long they had lived in Naples. Damas is thought to be a U.S. citizen, he said.
The six bodies were found about 6:30 p.m. Saturday, a day after police had visited the home to check on the family, Roberts said.

When a family member had not heard from a resident at the home, the family member had asked authorities on Friday to do a welfare check on the house, Roberts said. Responding police knocked on the door and got no answer, he said, but officers saw no indications to arouse their suspicions.
The following morning, the family member became more concerned and filed a missing persons report, Rambosk said. Later, authorities requested from property management a key to the house and an authorization to enter.
E-mail to a friend

All About Murder and Homicide • Florida • Haiti