By Shahreen Abedin
CNN Senior Medical Producer





NEW YORK (CNN) -- Seven-year-old Heather McNamara was heading home Tuesday, a month after surgery that temporarily removed organs from her digestive tract to allow removal of a tennis ball-size tumor.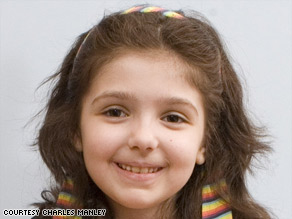 Doctors were able to reimplant Heather McNamara's liver and large and small intestines.
According to her surgical team at New York-Presbyterian Morgan Stanley Children's Hospital, the operation -- referred to as an "auto-transplantation" because the patient's own organs (instead of those from a donor) were reimplanted within four hours after being extracted -- is the first of its kind to be performed on a child.
"If this doesn't work, there's nothing left," Dr. Tomoaki Kato of New York-Presbyterian/Columbia, told CNN, remembering his thoughts during the surgery. "We were confident, but also prepared," he recalled.
In a 23-hour operation involving three different carefully coordinated surgical teams, doctors first removed the stomach, liver, spleen, pancreas, large intestine and small intestine along with the entwined tumor, placed the organs on ice with preservation solution, and then proceeded to extract the tumor while simultaneously preparing the body to receive the reimplanted organs.
The patient's father, Joseph McNamara, was kept on standby as a live donor in the event Heather needed an emergency liver transplant during the operation. Fortunately, such measures were not required.
Dr. Devon John, a transplant surgeon at New York University School of Medicine, told CNN that he was impressed by the surgery. "The operative approach and treatment of this rare and significant tumor is a tour de force ... requiring a well-planned, multidisciplinary approach to managing the patient and performing the operation itself," said John, who was not involved in the surgery.
He also said that because Heather is a child, her blood vessels are smaller, which made the surgery more difficult: "It's challenging in an adult, and much more so in a 7-year-old because there is much less wiggle room."

Watch Dr. Sanjay Gupta explain Heather's surgery and recovery »
Because of the tumor's size, doctors were unable to reimplant the pancreas, stomach and spleen. As a result, Heather is now diabetic and will require insulin and pancreatic enzyme replacement medication.
Surgeons created a pouch from intestinal tissue that will hold food before it moves into the small intestine, serving the purpose of a stomach. Heather is expected to learn how to eat fairly normally, but as Kato explains, "She cannot be competing in hot dog-eating contests," referring to the limited food capacity her body will have from now on.
And for a few months at least, she will have to take penicillin to ward off infections that the lack of a spleen makes her more susceptible to, Kato said. Her biggest challenge, he says, is going to be controlling her diabetes. "Nutritionally and growth-wise, she will be pretty normal," he said.
Heather also has a stoma, a direct opening through the skin that allows a small bag connected to her bowels to aid in the removal of stool. This is to protect her sutures against infection and damage, but Kato expects to surgically remove the stoma in early May.
Health Library
Kato says he performed this type of operation for the first time known to him last year in 62-year-old Brooke Zepp in Florida, while at the University of Miami. Although Zepp's tumor was different from Heather's (Zepp had a leiomyosarcoma, and Heather had an inflammatory myofibroblastic tumor), the wrapping of the tumor around the celiac artery and superior mesenteric artery was similar.
However, Zepp's tumor was much deeper within her abdominal cavity and was a centimeter smaller than Heather's. Kato says that Zepp is doing well today.
Referring to the risks of performing such a long and complicated surgical procedure, Kato told CNN it was the risk of the unknown. "You don't know until you begin the operation, whether or not when you take the organs out, if you will be able to reconstruct them and put them back in; if not, she will not survive. That was our biggest challenge," he said.

Tina McNamara, Heather's mother, recalled to reporters, "We were stripped of all hope," by the time they turned to Kato and his transplant team. But after seeing Kato's confidence, "I had no fear," she said.
When asked by her father what she is going to do when she gets home, Heather answered, "Play with my dog, Angel, and play with my sister."
E-mail to a friend

All About Surgery