By Elizabeth Cohen
CNN Senior Medical Correspondent





(CNN) -- After his sister nagged him for eight years to go to the doctor, Kurt Berger finally had a physical late last year. Then in January, he received a phone call from his doctor: Tests showed he had prostate cancer.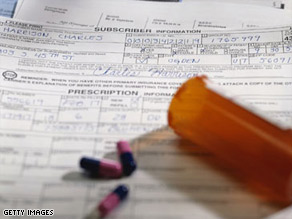 Short-term health insurance policies can be tricky to navigate, according to some experts.
He feared he was going to die. "I just put the phone down and went in my bedroom and started to cry," says Berger, 58. But he felt some relief that at least he had health insurance. Since Berger doesn't receive insurance through his job as a maintenance worker at a church in Baltimore, Maryland, he'd purchased a policy on his own.
"I thought at $76 a month, this is pretty good," Berger remembers. But now, weaknesses in the policy are beginning to emerge. For example, he just found out his insurance policy doesn't cover his radiation treatments, so he's using his savings to pay for them.
As Berger learned, picking out a good health insurance policy by yourself can be a daunting task. "When you are buying coverage on your own, you are walking through a minefield," says Karen Pollitz, project director of Georgetown University's Health Policy Institute. In order to understand the fine print, "you would need a lawyer sitting next to you."

Watch Elizabeth Cohen on shopping for insurance »
Don't Miss
As the economy worsens, more consumers find themselves walking through this minefield. In the past four months, 2.6 million jobs have evaporated, and analysts say half these people also lost their employer-sponsored health insurance.
So when you're out there shopping for insurance, how do you discern a good policy from a bad one? It can be very difficult, experts say. "I'm a 35-year veteran in insurance, and I still don't understand it," says Rex Bowden Sr., of Global Insurance Consultants. "It's fluid. Sometimes what you think it means, it may not mean."
To get started, you can look at ratings of health care plans by the National Committee for Quality Assurance, which, in conjunction with U.S. News & World Report, also puts out a list of the best commercial health plans.
You can also look at insurance guidance from America's Health Insurance Plans, Families USA and the Patient Advocate Foundation. For help in understanding insurance terms, consult this glossary from the NCQA, or this glossary from the state of New York.
On eHealthInsurance.com you can compare the basics of a variety of plans. While you're doing that, here are five crucial questions experts say you should always ask.
1. How much are my premiums and will they change?
Make sure you get the premiums in writing -- and find out how long you'll be paying that particular rate. Sometimes the rate you're quoted won't last long.
"Think of it like a credit card. Sometimes you get a nice, low introductory rate, then after a year, the rate skyrockets," says Steve Luptak, the executive director of Healthcare Advocacy.
2. What are my deductibles and co-pays?
Know what you're paying for. A deductible is how much you have to pay out of your own pocket each year before insurance kicks in. Even after you've met your deductible, you'll likely still have to fork over a co-pay whenever you see the doctor, get a procedure, or go to the hospital. For example, you might have to pay $25 for an office visit, or $50 for a hospital stay. Visit CNNhealth.com, your connection for better living
3. Is the insurance company licensed in my state?
Fraud happens, Luptak says. "Will the company be in business when you need it, or is it 'Shifting Sands Mutual'? "
According to government reports, both employers and individuals are vulnerable to unauthorized or bogus health insurance sales. In a 2003 Government Accountability Office report, there were at least 144 companies identified for selling fake coverage to more than 200,000 policyholders -- leaving a at least $252 million in unpaid medical claims.
To make sure the company you're about to send your money to is legit, go to the National Association of Insurance Commissioner's Web site and find state-by-state complaint and financial information about specific insurers. NAIC also has a list of licensed insurance companies.
Experts also recommend checking out whether the insurance company is financially secure. "There's nothing worse than getting insured only to find out they're going out of business," Bowden says. You can research the credit rating of a company for free on the Web sites A.M. Best or Standard and Poor's.
4. Am I buying a short-term or a long-term plan?
In a recent Time article, the magazine's national political correspondent Karen Tumulty wrote about her brother's struggle with an insurance company that refused to pay for his treatments for kidney disease. The problem: For six years, without realizing it, he'd purchased a series of six-month insurance policies rather than one long-term policy.
"Each successive policy treated him as a brand-new customer, " Tumulty explained in her article. "In looking back over Pat's medical records, the company noticed test results from December, eight months earlier. Though Pat's doctors didn't determine the precise cause of the problem until the following July, his kidney disease was nonetheless judged a "pre-existing condition" -- meaning his insurance wouldn't cover it, since he was now under a different six-month policy from the one he had when he got those first tests."
Health Library
The solution: Be wary of short-term policies.
"Don't buy them," says Pollitz, project director of Georgetown University's Health Policy Institute. "If you get sick, they are going take your coverage away."
5. Should I consider going with COBRA?
If you're voluntarily or involuntarily laid off from your job, or if you experience a large reduction in work hours, you may be eligible for COBRA, a program that allows you to keep your employer's insurance. But there's one catch: You have to pay the premium in its entirety, which can sometimes be upwards of $1,000 per month.
Under the new stimulus plan recently passed by Congress, people who involuntarily lost their jobs can have the government pay 65 percent of their COBRA costs. There are several rules, including that you have to be laid off between September 1, 2008, and December 31, 2009, and your company still has to be offering health insurance to its employees.
For information on the new COBRA rules, go the Department of Labor's Web site. The Families USA guide mentioned above also has COBRA information.

And here's one rule to remember when you're shopping for health insurance: If it sounds too good to be true, it probably is. "In general, if you find cheap health insurance, there is probably a reason why," Pollitz says.
Berger says he learned that the hard way, as his initial satisfaction with his $76 a month insurance has turned into frustration. He's currently applying for charity care to help pay for his cancer treatment, and praying the out-of-pocket expenses won't destroy his savings.
E-mail to a friend

CNN's Jennifer Pifer Bixler and Sabriya Rice