By Elizabeth Landau
CNN





(CNN) -- Twins? Triplets? Octuplets? Sounds like a lot of stress to handle more than one baby at once.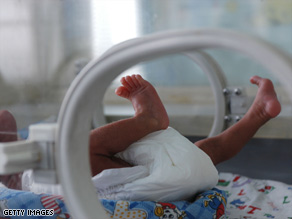 Multiple births carry the risks of preterm labor, low birthweight and prematurity, research shows.
It turns out that, according to new research, multiple births are a risk factor for postpartum depressive symptoms in mothers. The study was published April 1 in the journal Pediatrics.
The research is particularly relevant now that "Octomom" has become a household term since Nadya Suleman gave birth to octuplets January 26.
Researchers analyzed data from more than 8,000 mothers who participated in the Early Childhood Longitudinal Study-Birth Cohort, which looked at children born in 2001.
Nine months after delivery, mothers of multiple births had 43 percent greater odds of having moderate or severe postpartum depressive symptoms compared with mothers of single babies, the study said.
Mothers with multiple births in the study had twins or triplets, and no significant difference was found in postpartum depression rates between those groups.
"Any mother needs to know that this is a serious problem," said study co-author Yoonjoung Choi of the Johns Hopkins Bloomberg School of Public Health. "From the health care provider's side, any mothers with postpartum depression need to be referred to appropriate services."
The stress of multiple babies is one reason that some mothers may experience postpartum depression, experts say. The study did not specifically examine the causes behind the depression.
Mothers feel especially stressed when their children don't sleep through the night, said Catherine Monk, psychiatrist at Columbia University Medical Center in New York, who was not involved in the study. Visit CNNHealth.com, your connection to better living
Monk recently got a call from a mother with newborn twins who said she felt more depressed after their birth than she did when she had her three other children, who were born separately.
Multiple births can also be associated with in vitro fertilization, a process that often brings stress of its own, Monk said.
"The process of any kind of assisted reproduction is very stressful for women and couples, and can put a vulnerable woman on the edge," she said.
Postpartum depression is often diagnosed within the first four to six months but can emerge later, Monk said.
Health Library
The study points to a greater need to screen mothers for postpartum depression and direct them to the appropriate resources, Choi said. When a mother goes for a well visit with her baby or babies, the pediatrician could help in detecting depression symptoms and educating the mother about treatment.
Besides risks to the mother, multiple babies have a higher infant mortality rate. Multiple births also carry the risks of preterm labor, low birthweight and prematurity, research shows.
Symptoms of postpartum depression, which affects an estimated 10 percent of new mothers, include mood swings, loss of appetite, insomnia and withdrawal from family and friends, according to the Mayo Clinic.
One underlying cause of postpartum depression may be that the baby or babies trigger the mother's memories of her own family and make her worry about giving her children a better childhood, Monk said. The mother may be unaware that she is having these associations.
"On a less-conscious level is our hopes and dreams about what kind of parent we're going to be and our anxiety about it, our fears," she said. "The mammoth responsibility about having a baby -- it is like obviously nothing else in life."
The transition of becoming a mother can have this effect even if the woman has had children previously, because different babies trigger different memories, Monk said.
Therapies available for postpartum depression include psychotherapy, cognitive behavioral therapy and medication, and some women find that a combination works best, Monk said.
E-mail to a friend

All About Pregnancy and Childbirth • In Vitro Fertilization