By Saundra Young
CNN Senior Medical Producer





BEVERLY, Massachusetts (CNN) -- It was Halloween night when 12-year-old Lucy Gross picked up her first marijuana cigarette, starting a spiral from which she is still struggling to recover.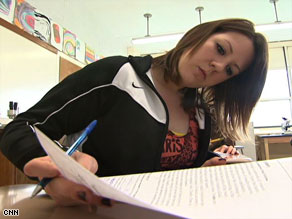 Lucy Gross, sober two years, is scheduled to graduate from Northshore Recovery High School in June.
"I tried it and I liked it and it made me feel independent and it made me feel more grown up, more mature," Lucy said.
By the time she was 15, the Gloucester, Massachusetts, teen was drinking, using cocaine and taking a variety of other pills, including Vicodin and Oxycontin. Her parents were worried. Even she knew she needed help.
"One day I put a sign on my door saying send me to treatment or I'm running away. I knew I couldn't be at home and be OK."
Lucy's story is not unlike those of thousands of other teens in the United States. The U.S. Department of Health and Human Services' Substance Abuse and Mental Health Services Administration said more than 341,000 young people between the ages of 12 and 17 are in rehab annually. That's 1 in 70. Adolescent drug abuse cuts across all demographics -- race, class and geography.
According to SAMHSA, more than 70 percent of adolescents who get treated have a co-occurring psychiatric disorder. Lucy was no different. In sixth grade she was seeing a school counselor and behavioral specialist. By high school, she had a diagnosis of depression and was suffering from anxiety.
Lucy spent a month in treatment at a hospital in Boston, Massachusetts, then six more months at a residential facility in Maine for troubled teens. Her parents' biggest worry was what would happen when Lucy had to go back to her old school.
'Addiction: Life on the Edge'
Dr. Sanay Gupta follows a mother, a writer, a student and a husband. Each an addict on a journey through recovery and relapse.
Sat & Sun, 8 p.m. ET on CNN

"For kids who are susceptible to go back into that environment and to stay clean and sober, it's just got to be incredibly difficult," said Lucy's mother, Abbie Lundberg. "I don't know how they do it."
Luckily, Lucy didn't have to. Northshore Recovery High School opened its doors three years ago in Beverly, Massachusetts, a 20-minute ride from Gloucester. The school is funded by the Massachusetts Department of Public Health and the local school districts. The goal: provide high school students a safe, drug-free environment where they can finish their education.

Watch more from Dr. Sanjay Gupta on Lucy and Northshore »
"Recovery high, the real gift that it gives to the kids is the soft landing when they come out of rehab or a longer-term facility like Lucy was in," said Tony Gross, Lucy's father. "It just allows them to reintegrate at their own pace, gently."
It's a traditional curriculum with a twist: a 12-step model program designed to prevent relapse. There are group sessions every day so kids can talk about any issues, problems or progress they're making. When they graduate, students receive a state-certified diploma.

Watch Lucy talk about her struggles and her recovery »
Students can be referred to Northshore by their school, parents, a treatment program or the courts. They have to be clean and sober for at least 30 days and sign a contract agreeing not to use drugs, be in the presence of known drug users or frequent known drug houses and they must attend three meetings a week. Students must also take weekly random urine tests.
Principal Michelle Lipinski has worked at three large high schools, both urban and suburban. She says recovery schools are a lifeline for these children.
"The main difference between a recovery high school and a public high school is we're the true safe and drug-free zone -- I mean zero tolerance. As long as there's drugs you're gonna need a recovery high school. Until you've eradicated drugs, then you can stop having to help the adolescents. Drugs are in every school."
Michaela Gile teaches English at Northshore. "It's incredibly difficult in one sense and it's also incredibly rewarding, because you deal with students whose emotions are very raw. There are certain things some kids can't do on a given day because it's too hard. Life gets too hard sometimes to, say, sit down and write an essay. So you have to make allowances for that."
While Northshore is relatively new, recovery high schools are not. The first one, Sobriety High, opened its doors in 1987 in Edina, Minnesota, outside Minneapolis. Judy Hanson was there almost from the beginning. As a licensed alcohol and drug counselor at treatment centers in the area, she acted as an adviser to Sobriety High's founder.
"I would be so tired of seeing students that I transitioned from the treatment center to their former high school fail within the first month. You tell these kids to go back to high school and tell them to not see their old using friends and build a new network of friends, and it's so hard."
Health Library
Now, Hanson is the director of Sobriety High. She's been there for 18 years. During that time, three more sobriety high schools have opened in the area, all averaging about 50 students. Hanson said these schools must exist for students and families to have a fighting chance. "We help mend families. Kids do very bad things and it's hard for parents to love them and trust them again. There's a lot of pain and hurt."
No one knows that better than Joe Maternowski. His 17-year-old daughter, Maria, was treated twice at Hazelden Center for Youth and Families for abusing marijuana and other drugs. She's now a junior at Sobriety High and has been sober for two years.
"It's been a wonderful thing for her," Maternowski said. "The school is great. The teachers and everyone there realize what the kids have been through and so it's a very supportive environment where she can learn safely."
The Association of Recovery Schools has 21 high school and 14 college members helping students transition to high schools, college and careers. Most are either alternative or charter schools, and all get funding from their school districts. So far, there is no way to track their success, but by all accounts, the schools are successful.
"I don't base my success on relapse," Northside's Lipinski said. "I base my success on these children willing to come back and make a go of it again. I mean, you don't find many dropouts from a high school coming back and asking for a second chance."

Hanson agrees. "Our graduation rates are usually above 90 percent," she said, "Higher than most public schools."
Perhaps a bit of proof: Lucy graduates in June. She starts college in the fall. With two years of sobriety under her belt, she credits Northshore. "It helps me so much to be there," she said. "I can't imagine staying clean without it."
E-mail to a friend

All About Addiction and Recovery