By John Bonifield
CNN Medical Producer





(CNN) -- Nic Sheff loved drugs.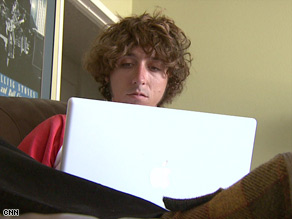 Nic Sheff, 26, has fought addiction and relapse since his adolescence.
Crack. Powdered cocaine. Ecstasy. Heroin. And his favorite, crystal methamphetamine.
"When I did crystal meth for the first time, it was like the answer to my problems. I felt strong and confident, just like a superstar or something," said Sheff, who is 26.
He kicked his addiction and wrote "Tweak," a popular book about the toll drugs took on his life. His recovery looked like a success. Everyone, including Sheff, thought he had beaten his disease.
But he went over the edge again. He relapsed last May and again in October.
Sheff, who has bipolar disorder, said a split with his girlfriend and an episode of manic behavior precipitated his return to drug abuse.
"I am isolated, alone, disgusted with everything and, most especially, myself. I am filled to overflowing with pain and torment and weight," Sheff wrote in a remarkable four-page letter to CNN. Read about Nic Sheff's drug relapse in his own words
Sheff admitted to taking prescription drugs and smoking pot.
"I just felt like a needed relief so badly," he said.
The peril of relapse haunts most addicts.
"Relapse is certainly sometimes part of the disease process," said Dr. Kevin Clark, medical director at the nonprofit Hazelden addiction treatment center near Minneapolis, Minnesota. "Our figures are about 53 percent to 56 percent of patients remain abstinent for a year."
'Addiction: Life on the Edge'
Dr. Sanay Gupta follows a mother, a writer, a student and a husband -- each an addict on a journey through recovery and relapse.
Sat & Sun, 8 p.m. ET on CNN

That means about half relapse. Hazelden, one of few rehabs to publish results, hopes to improve its abstinence rate to about 75 percent over the next five years, Clark said.
Quitting is difficult, many experts say, because addiction is a brain disease.
"People who are out of control in their habit are taking more than they want to take, and when they want to stop, they really can't stop. And we can link all of these feelings to the circuitry of the brain," said Edythe London, a neurobiologist at the University of California, Los Angeles. "Some of the most profound changes, for example in the dopamine system, can take years to resolve completely."
Sheff understands the challenges.

Dr.Gupta talks to Nic about his rocky road to recovery »
"I have a disease, and my brain is different than other people's, and that's really nothing to be ashamed of," he said.
Sheff's descent into addiction began in San Francisco, California, the beautiful city by the bay. But not for Sheff. He calls it "the poison city."

Watch Nic describe his early drug use »
He took his first drink when he was just 11. Enough liquor to puke and black out. A year later, his father found pot in a backpack.
"I was blown away," said David Sheff, Nic's father. "We had talked a lot about drugs, and I had given him warnings, and I felt that I would know. And I was so blindsided."
Sheff eventually tried different drugs. Harder drugs.
Don't Miss
He wound up homeless, sleeping in city parks or in his car. He hustled men for money to buy his next fix.
"I didn't know what else to do but keep using drugs," he said.
His father could see that he was losing his son. Sheff's abuse was out of control.
"He looked like he'd been through hell," recalled David Sheff. "I said, 'Nic, we need to get some help.' And he said, 'I know.' "
The Sheffs selected a recovery center in San Francisco, but Sheff relapsed after only three days of sobriety.
The family tried again. Another rehab. Sheff stayed clean for a month.
It took three more rehabs and years of turmoil, but Sheff was doing better. His decision last May to take pills and relapse again was so impulsive, so instantaneous, he said, that there was no thought process involved.

Interactive: Addiction's lure to the brain »
In his letter to CNN, he wrote that while looking for toothpaste in his mother's bathroom, he found something much more appealing: the prescription drugs Klonopin, an anti-anxiety medication, and Darvocet, a narcotic pain reliever. He took one of each without even thinking twice.
"Instantly, the craving was set off in me," Sheff said.
He spiraled downward.
"I was like, well, I've already relapsed so I might as well take these, and then when once I was taking those, I was like, well, I might as well go get pot from this guy," Sheff said.
On the outside, he kept holding it together. The success story.
But it was a lie.
Struggling to find the words, Sheff revealed that he even smoked pot before taking a taxi to an airport to speak to a group of young addicts about his book and recovery.
"That morning, I smoked pot. Yeah. Before I went to talk to that boys' rehab about sobriety," he said. "It was just so crazy how it went from zero to 60 in a day and a half or something, and that's what really scared me."
Sheff sought help quickly and checked into a seven-day group therapy program. Later, he moved into a sober living house.
Health Library
"I was trying to do it on my own and be really strong on my own, and if this process has taught me anything, it's that I really have to reach out to other people for help," he said.
In sober living, Sheff was once again back in meetings, trying to follow the 12 steps of recovery.
"I really struggle with it," he said. "I wish I didn't struggle with it, because I see it work for so many people, and I'm very envious of people's ability to be so swept up in it and have it help them so much."
The meetings weren't enough to prevent another relapse in October. This time, the drug of choice was Vicodin, an opiate. Sheff said the relapse had a lot to do with his fears about being in a new relationship and the relapse of a close friend. He told CNN in late March that he has remained sober since early December.
In speaking so publicly about his addiction and relapses, Sheff hoped to continue his healing.
"Internally, the gift that I've given myself to be honest has maybe saved my life," he said.
He was excited about the journey of recovery that still lies ahead, but somewhat fatalistic about his urge to use.

"You know, it doesn't make sense. It's not fun. At a certain point, it's not even giving me that relief anymore. It's just this compulsion that I can't break. In that sense, I'll always be a drug addict," Sheff said.
"I think I can be someone who no longer uses drugs," he added.
E-mail to a friend

All About Addiction and Recovery