By Denise Mann
CNN





(CNN) -- Think that vitamins can only help--but never hurt--a condition? Although that's true in many cases, some vitamins can be harmful to certain people or under special circumstances.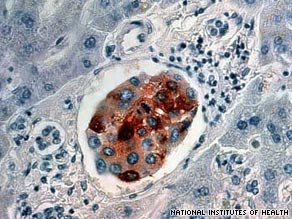 Doctors are not sure exactly how antioxidants affect people with breast cancer, shown here.
Now a new study shows that many breast cancer patients take powerful antioxidant vitamins during radiation or chemotherapy--despite evidence suggesting that antioxidants may be more harmful than helpful during such treatments.
"It is possible that if you are taking concentrated high-grade antioxidant vitamins in significant doses, it may interfere with your treatment," says Dr. Marisa Weiss, the president and founder of advocacy group Breastcancer.org and the author of several books, including "Taking Care of Your Girls: A Breast Health Guide for Girls, Teens, and In-Betweens."
The jury is still out on how--or even if--antioxidant vitamins can affect breast cancer patients, but in the study, 60.5 percent of women with breast cancer reported taking antioxidants, including vitamin E, vitamin C, beta carotene, and selenium, during their treatment. The findings appear in the July 15 issue of the journal Cancer.
Overall, 69.3 percent of those on antioxidants took high doses. (The researchers defined high doses as anything more than the amount found in a Centrum multivitamin.) And more than half who took antioxidants used doses that were higher than the current dietary reference intakes (DRI), which are the daily nutritional recommendations set forth by the Institute of Medicine. Health.com: Breast cancer at 23 -- Why me?
So how can something that is supposed to be so good for you--like antioxidants--actually cause harm? Chemotherapy and radiation both work by creating free radicals within cancer cells; these free radicals damage the cancer cells and may ultimately kill them.
Antioxidants, however, sop up free radicals; in theory, this can prevent them from doing their job within cancer cells. In healthy people who are not being treated for cancer, antioxidants can have beneficial effects by sopping up the free radicals linked to aging and other diseases. Health.com: Alternative therapies for breast cancer treatment side effects
"In cancer, we create free radical damage to tumor cells with treatment, and we want that, but antioxidants quench this damage," explains Dr. Brian Lawenda, the clinical director of radiation oncology at the Naval Medical Center, in San Diego, California. Put another way: Antioxidants may protect cancer cells from harm just like they protect normal cells. "We have lab data and some clinical data that confirms this," Lawenda says. He wasn't involved in the new study, but he recently reviewed antioxidant research, including people with different types of cancer.
Most studies haven't been able to conclusively prove that antioxidants affect therapy. However, one suggested that head-and-neck-cancer patients who took vitamin E did not live as long as those who did not. Although breast cancer is different from head-and-neck cancer, there still may be a link, says Lawenda. "Don't take a high-dose supplement of any antioxidant during chemotherapy and during radiation because we don't know what the effects will be on your treatment," he suggests. Health.com: I had never even heard of male breast cancer
However, it's still too early to give any recommendations on what women should or shouldn't take during breast cancer treatment, says lead author Heather Greenlee, N.D., Ph.D., an assistant professor of epidemiology and medical oncology at the Columbia University Mailman School of Public Health, in New York City. "We need to know if these antioxidants cause benefit or harm. There is the potential for both and we need answers."
Weiss, who is also the director of breast radiation oncology and breast health outreach at Lankenau Hospital in Wynnewood, Pennsylvania, notes that "people do assume that vitamins are natural, healthy, necessary, and harmless, and this may be even more appealing to people faced with a serious diagnosis like breast cancer.
"I tell my breast cancer patients not to take vitamin supplements or antioxidants during radiation," says Weiss, who was not involved in the new study. "I prefer that you eat well and aim for five to nine fruits and vegetables a day."
She says patients should tell their doctor about any antioxidant use, or anything else that may affect treatment. Health.com: The hidden benefits of acupuncture, ginger and ginseng
"You must engage in a dialogue with your doctor about what you are bringing into your body and that includes what you are eating, drinking, and any supplements you are taking," she says. "Write a list of everything you are taking, including the dose and frequency. Don't assume they know about all the medications you have been prescribed by other doctors."
That sounds simple enough, but it doesn't always happen. In fact, 75 percent of cancer patients who used complementary and alternative medicine didn't tell their physicians, according to a 2005 survey.
E-mail to a friend

Enter to win a monthly Room Makeover Giveaway from MyHomeIdeas.com
Copyright Health Magazine 2009
All About Breast Cancer • Vitamins and Supplements