By Stephanie Busari
CNN






LONDON, England (CNN) -- A nine-year-old girl has died in Britain from the H1N1 virus, commonly known as swine flu, as authorities reported a jump in the number of cases in the country.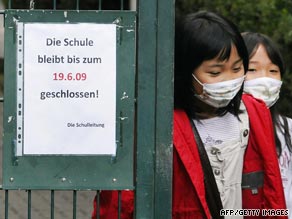 Children leave a Japanese school in Germany which was closed following a swine flu outbreak.
The girl is the third person in the UK to die from swine flu, doctors at a children's hospital in Birmingham, England said Monday.
A spokeswoman for the hospital said in a statement: "We can sadly confirm that a child died at Birmingham Children's Hospital on Friday evening.
"The child has since tested positive for swine flu but had other serious underlying health conditions.
The girl was Tuesday named as Sameerah Ahmad and an inquest into her death revealed she had a rare genetic disorder affecting the small intestine called microvillus inclusion disease.
The UK's Department of Health also announced a big jump in the number of patients in England confirmed with swine flu - up 1,604 since Friday, taking the UK total so far to 5,937.
558 new cases were confirmed Monday in the West Midlands area, where the girl died.
The latest figures from the World Health Organization show there have now been 311 confirmed deaths around the world from the H1N1 virus first identified in Mexico this spring, and just over 70,000 infections in 113 countries.
In the U.S. there are an estimated one million people (as opposed to reported) infected with swine flu, since the H1N1 virus emerged nearly three months ago, according to the Center for Disease Control.
The CDC admits on its Web site this is not a "perfectly accurate estimate, just a ballpark figure". The estimate is based on surveys, rather than laboratory evidence.
"We're saying that there have been at least a million cases of the new H1N1 virus so far this year in the United States," said Anne Schuchat of the CDC. "Reported cases are really just the tip of the iceberg."
The CDC says there are 27,717 reported cases that have been defined in laboratories in the U.S.
The World Health Organization recently declared that swine flu had become a global pandemic -- the organization's first such announcement in more than 40 years.
Increasing the alert to Phase 6 does not mean that the disease is deadlier or more dangerous, only that it has spread to more countries, the WHO said at the time.

The last pandemic was declared in 1968.
The announcement came after a meeting of the WHO's Emergency Committee, which had debated since April whether the spread of a novel H1N1 flu virus was fast and widespread enough to warrant a Phase 6 designation.
E-mail to a friend

All About Swine Flu • World Health Organization