STORY HIGHLIGHTS
Large families are a staple of reality TV, but what's it really like to raise eight kids?
Georgia couple has eight children ranging in age from 12 to 24
Grocery bills can be $1,500 a month; shuttling kids around can take hours
Mom is a fitness instructor who loves to dance; dad is working in Afghanistan
Marietta, Georgia (CNN) -- Cindy Comstock has dance moves a teenager would envy. She shakes and struts to a hip-hop beat every week at a health club in suburban Atlanta, where she sometimes tells new members, "I'm the one with the eight kids."
She's also the one with a husband in Afghanistan and a son in Iraq.
But what fascinates people the most is that this slender, bubbly, auburn-haired fitness instructor is the mother of four boys and four girls, ages 24, 23, 21, 19, 17, 16, 14 and 12.
"Really, I wanted 12 children, but then I realized I'm doing it all on my own because my husband is working so much, so I thought, I'm just sticking with eight. Eight is enough," Comstock said.
Large families like hers have been getting a lot of attention and lucrative offers in recent years.
Think "Jon & Kate Plus 8," the reality TV series about a family raising sextuplets and a pair of twins. Last month, Jon Gosselin revealed to CNN's Larry King that he and his wife, Kate, were paid $22,500 per episode before their messy breakup this year.
Meanwhile, Nadya Suleman, the single California woman who was dubbed "Octomom" after giving birth to octuplets in January when she was already the mother of six, has signed a deal for a reality show.
Programs like that may show the responsibilities of raising a large family neatly packaged as entertainment.
But then there's the reality Comstock, 45, knows all too well.
Like not being able to go on vacation alone with your husband for the first 20 years of your marriage. Or constantly watching for bad influences on your kids among eight sets of friends. Or struggling financially when money is tight and there is a small army to feed.
"We would have beans and rice. ... There are many ways to make beans and rice," Comstock said, recalling the early days of her marriage, when her husband was working on his master's degree.
"Dried milk. My kids would never know that it was dried milk, because I would make the milk at night, and I would put a little sugar in it and put it in the fridge so it was cold."
Those days are behind them, but the Comstocks must still budget carefully.
When all eight children were still living under one roof, the family spent about $1,500 a month on groceries, she said. They went through 20 gallons of milk a week, prompting Comstock to call her kids "milk monsters."
Meat has always been one of the biggest expenses. Comstock estimates that she buys 20 pounds of chicken and 10 pounds of ground beef a week. The family also goes through eight dozen eggs and 25 pounds of potatoes in that period of time.
To stretch the dollar further, Comstock is an avid coupon cutter, sometimes buying 10 Sunday newspapers to get the most deals.
Family grows
Cindy Comstock grew up in California and Utah, married John Comstock at 19 and became a mom nine months later. From then on, a baby arrived in the household every year or two for the next several years. Behind the Scenes blog: How CNN.com discovered Cindy Comstock
Less than 2 percent of the 77 million family households in the U.S. have seven members or more, the Census Bureau estimated last year. The Comstock household soon grew to 10, including Mom and Dad.
"I just love children, and so I just wanted a big family," Comstock said. "I kept thinking, oh, we need to have another one. [But] after my eighth child was born, I never had that feeling again."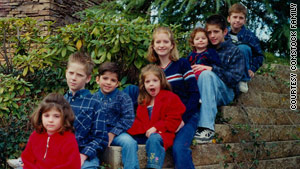 The Comstock kids, as seen several years ago.
Added John Comstock, "Having kids is something that fulfills you. ... You might think that with eight kids, you only have so much to go around, but the more love you use, the more you have."
Cindy was a stay-at-home mom while John, an industrial engineer, often traveled on business supporting the family. She made sure homework was done, the kids behaved and everyone was where they were supposed to be.
"It was really hard when my kids were younger. I have a little more freedom now, because my kids are older, but you have to pay a price to get to that point," Cindy Comstock said.
To keep track of everyone, the parents would often call out names like roll call, John Comstock remembered. It could take hours to shuttle the kids to their various after-school sports. Attending every activity was a special challenge.
One year, all four boys played baseball, and two of the girls played softball, sending John on a quest to find the one set of bleachers from which he could see most every field.
"I probably looked like a lighthouse turning back and forth," he joked.
Laundry meant a rainbow of piles of clothes down the hallway, and space was often tight. The family lived in a 1,600-square-foot house for a few years, which meant three kids per room in two rooms and two kids in another, John Comstock recalled.
"Yet as cramped as the rooms were, you could come downstairs in the evening and find them all cuddled together asleep on the floor in the living room like puppies," he said.
'Greatest surprise ever'
The couple was rarely able to go out alone, Cindy recalled. Any child care help they had when they lived on the West Coast near their families ended when they moved to Georgia 10 years ago after John was transferred. Their first vacation alone was a five-day trip to Cancun, Mexico, five years ago when a friend was able to look after the children.
Asked about the impact on her relationship, Cindy Comstock paused for a few moments.
"I'm sure it's been a strain on our marriage, just because you don't have that time to be able to get away, that time for each other," she said.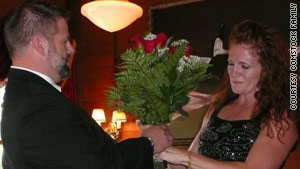 John Comstock surprises his wife, Cindy, on their 25th wedding anniversary.
These days, John Comstock is farther away than ever. He's working in Afghanistan as a contractor after spending a couple of years working in Iraq. He comes home every few months, though the family keeps in touch at least twice a week through Skype video calls.
The Comstocks' 23-year-old son is following in his father's footsteps and is now also working as a contractor in Iraq.
Cindy thinks about the distance and the potential dangers they face every day.
"I try not to watch the news a whole lot. It's hard, but -- I really just pray a lot," she said.
If he's had any bad experiences, John Comstock keeps them to himself.
"What happens in Iraq stays in Iraq. What happens in Afghanistan might as well be on the moon," he said in an e-mail.
In September, a month after he left for Afghanistan, the couple had an unexpected, joyous reunion, her "greatest surprise ever," Cindy Comstock said.
She was lured by one of her daughters to a restaurant, where her husband suddenly appeared, dressed in a tux and carrying two dozen red roses. It was their 25th wedding anniversary. He had planned the surprise for months.
"Everybody was crying. I was bawling. I was so blown away," Cindy Comstock said.
After dinner, he whisked her away for five days to California, including a trip to Catalina Island, where they were supposed to go on their honeymoon but didn't make it before the last ferry.
"I don't think she could believe I remembered all these years, but I wanted her to have her honeymoon," John Comstock said.
Rules and curfews
Five of her eight children still live at home, but Cindy Comstock said that about 15 kids usually hang out at her seven-bedroom house after school when everyone brings their friends over. She likes it that way: She likes to know what's going on and who her kids' friends are.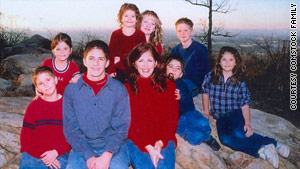 Cindy Comstock is surrounded by her eight children.
"I always make food for an army, so if anybody wants to come and eat, we've got plenty of food," she said.
(Cindy Comstock's father, who recently passed away, was a Native American and a former boxer. You can read part of his fascinating story here.)
The family has a dishwasher, but Cindy Comstock likes the kids to do the dishes the old-fashioned way, because it's a good opportunity for everyone to talk.
She doesn't let her children watch R-rated movies and imposes a strict curfew. Everyone has to be home by 9 p.m. on a school night and midnight on weekends. Nothing good ever happens after midnight, Cindy Comstock said.
She is proud that all of her kids have done well in school, with most hitting the honor roll.
One of her daughters has finished college, one of her sons is still attending, and her 17-year-old daughter is planning to go.
Comstock and her husband tell the kids that if they want to go to college, they'll get some financial help but that a scholarship is still a must. The family is trying to be completely debt-free, Comstock said.
"I would never change any struggle that I've ever gone through with my children or on my own," she added. "[But] I probably wouldn't be able to get through as much as I have if I didn't have faith and I didn't pray a lot."
There's also therapy in the form of exercise (she's been a fitness instructor for 15 years,) painting (she hates white walls, so she covers the ones in her home with murals) and dancing (she calls herself a "danceoholic").
Asked what she thinks about Nadya "Octomom" Suleman, Comstock is at a loss for words and just shakes her head. As for the Gosselins, she said she feels sorry for their children who are stuck in the middle of a messy break-up that everyone is watching. She can't imagine that kind of scrutiny.
"My life is just crazy all on its own," Comstock said.