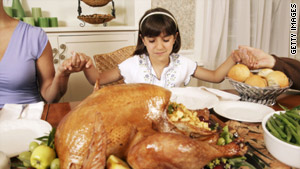 Giving thanks for even the little things can make you happier, experts say.
STORY HIGHLIGHTS
A gratitude journal helps a woman as she slogs through depression
Giving thanks helps mood, sleep and blood pressure, "gratitude doctor" says
Online social networks allow users to share stories of thanks and inspire others
Heightened gratitude leads to generosity, helping recipient and giver, author says
(CNN) -- Mustering up thanks for the very, very simple things was about all Therese Borchard could do when she began jotting notes in a gratitude journal. She was grateful for her bagel and cream cheese. Desserts and coffee, too, got nods. So did the warm water in her shower.
Borchard, 38, was slogging through depression after the birth of her second child and searching for tools to re-engage with the world. She took the advice of her great aunt, who, like Borchard, had once suffered through a nervous breakdown and had collected information about how optimism and gratitude could be learned.
" 'You have to work on your thoughts and on staying positive,' " Borchard, a writer living in Annapolis, Maryland, remembered being told. "I learned from her about forcing gratitude into my life. Some people have an easier time with it. People like me have to try extra hard to see the cup as half full."
As families across America prepare to gather around Thanksgiving Day dinner tables, many will carve out a little time to share what they're grateful for before they carve into the turkey. They'll exchange nods and smiles, feel warm and fuzzy and then eat themselves into a stupor. But what if people acknowledged what they were grateful for throughout the year?
People like Borchard, whose new book "Beyond Blue: Surviving Depression & Anxiety and Making the Most of Bad Genes" will be released in January, say that increased focus on gratitude can offer a lasting boost. In her Beliefnet blog, "Beyond Blue: A spiritual journey to mental health," she recently outlined "12 Ways to Be Thankful", tips she said can be especially helpful during the holiday season, which can be difficult for many. Keeping a gratitude journal, in which people simply jot down what they're grateful for, is just one tool to help shift a person's outlook -- and one that's gained buzz on talk shows, including Oprah's.
The benefits from counting blessings are tangible -- emotionally and physically.
--Robert Emmons, "gratitude doctor"
Robert Emmons, often referred to as a "gratitude doctor," has been researching the power of gratitude for more than 10 years. The psychology professor at University of California, Davis is the editor-in-chief of The Journal of Positive Psychology and author of a number of books, including "THANKS!: How The New Science of Gratitude Can Make You Happier." He pointed to the results of several studies of more than 2,000 people to show the value of what he and others are learning.
"The benefits from counting blessings are tangible, emotionally and physically," he said. "People are 25 percent happier and more energetic if they keep gratitude journals, have 20 percent less envy and resentment, sleep 10 percent longer each night and wake up 15 percent more refreshed, exercise 33 percent more and show a 10 percent drop in blood pressure compared to persons who are not keeping these journals."
But keeping a gratitude journal and, more significantly, changing the way you look at the world isn't as easy as just jotting down a few words, said Sonja Lyubomirsky, a psychology professor at University of California, Riverside, who wrote "The How of Happiness."
She said part of happiness is determined by genetics, another by life circumstances and it's only the third part that can really be controlled by a person's thinking and behavior. But doing this "takes work, just like any other goal in your life," she said. It's something you have to be aware of "every day in your life, not once a year."
Opportunities to express gratitude, of course, go beyond journaling. Thankfulness can be shared with a running partner or written in letters to people who've made an impact in your life. It can also be shown to complete strangers.
- Make regular entries in a gratitude journal

- Find a gratitude partner, someone to talk thanks with

- Write thank-you letters

- Reach out to those who've affected your life and tell them

- Surround yourself with grateful, positive people

- Give to others the way you've been given to

- When stress rises or moods change, remember what you're grateful for

Sources: Various grateful people
Scott Truitt, who grew up an Air Force brat, launched The Gratitude Campaign a little more than two years ago. The 39-year-old frequent business traveler found himself after 9/11 watching how people in airports behaved around military servicemen and women. What he saw amounted to a bunch of awkward glances, so he came up with a simple gesture, involving a hand over the heart, which allows people to simply acknowledge those in uniform. The gesture has been taught through a much-seen video -- 13.8 million visitors have viewed it on Truitt's Web site, another 2.3 million have seen it on YouTube, and millions more have seen it as a public service announcement, he said.
"It's not about debating the war in Iraq," he said, before adding that only 6 percent of those serving in the military, including reservists, are based in Iraq. "They all signed up to protect our freedoms."
Two entrepreneurs in the Washington area in September launched Thankfulfor.com, an online gratitude journal that's shared through social networks so people can feed off one another's thanks. The site also offers gratitude to-do tips for the holiday season and recently launched a gratitude challenge, asking people to commit in November and December to write down daily three to five things they're grateful for.
"When you do something like that over and over every day, it changes your whole psyche," said one of Thankfulfor.com's founders, Jen Consalvo, 37, who has kept her own gratitude journal for several years. Keeping a gratitude journal, "helped me through the dark times and helped me realize how much I have."
iReport: Giving thanks, helping others
Pegged to Thanksgiving for the second year in a row, a nonprofit called Epic Change will host TweetsGiving, a 48-hour celebration of gratitude and giving that encourages people to use Twitter to offer thanks and to host "gratitude parties" where money is raised to give a gift "built from gratitude." Last year the $10,000 raised in two days built a classroom in Tanzania.
When people are grateful, turns out they're more likely to pay it forward, said best-selling author Debbie Macomber, whose most recent book is entitled "One Simple Act: Discovering the Power of Generosity."
The word "generosity," she said, isn't about money alone. It can be a generosity of time or spirit, a simple and random act of kindness. This reality came to light for her when she had a coffee mishap in a Newark airport terminal. She was fumbling with too many bags when her cup of java spilled all over the place. As she frantically tried to clean up the mess, a man standing in the nearby Starbuck's line watched and delivered a fresh cup of coffee before walking away.
"I just felt so good. But it's not just about how the recipient feels, it's about how the giver feels," she said. "Smiling at a stranger, opening a door, taking a cart back to the store -- you'll feel better making a contribution to life no matter how small."