By Mike Mount
CNN Senior Pentagon Producer





WASHINGTON (CNN) -- The Purple Heart medal, awarded to service members who have been physically wounded in combat, will not be given for a diagnosis of post-traumatic stress disorder, a Pentagon statement said.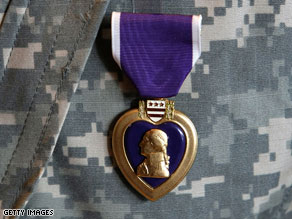 Soldiers suffering from post-traumatic stress disorder will not receive the Purple Heart, the Pentagon says.
The decision, which was made in early November but just made public this week, came after months of deliberations sparked by a question on the topic posed to Defense Secretary Robert Gates during a Pentagon briefing in May.
"[It's] clearly something that needs to be looked at," Gates said in response to the query. His answer prompted a review by the Defense Department's Awards Advisory Group, made up of "award experts" in the Pentagon.
After the review, Undersecretary of Defense for Personnel and Readiness David Chu examined the advisory group's findings and determined that service members with PTSD alone would not be eligible for the award, according to Pentagon spokeswoman Eileen Lainez. Gates agreed with the decision, Lainez added.
Thousands of service members are at risk for or have been diagnosed with PTSD after serving in Iraq and Afghanistan, according to Pentagon statistics. The Department of Veterans Affairs estimates that up to 11 percent of Iraq veterans and 20 percent of Afghanistan veterans have PTSD.
"The Purple Heart recognizes those individuals wounded to a degree that requires treatment by a medical officer, in action with the enemy or as the result of enemy action where the intended effect of a specific enemy action is to kill or injure the service member," according to a statement released by the Pentagon.
"PTSD is an anxiety disorder caused by witnessing or experiencing a traumatic event; it is not a wound intentionally caused by the enemy from an 'outside force or agent' but is a secondary effect caused by witnessing or experiencing a traumatic event," the statement continued.
The Defense Department statement noted that historically, Purple Heart designations are awarded for bodily injuries from "an outside force or agent," which is considered an objective standard. It also cited other Purple Heart award criteria and 76 years of precedent as other factors in deciding when to bestow the honor. The medal has never been awarded for psychological conditions, it said.
Currently, the department explained, PTSD is not diagnosed "as objectively or routinely" as would be required for the award.
The Pentagon did leave the door open to awarding the medal to those with combat-related PTSD in the future, saying, "advancements in medical science may support future re-evaluation."
E-mail to a friend

All About Military Order of the Purple Heart • U.S. Department of Defense