JERUSALEM (CNN) -- A cease-fire between Israel and Gaza will hold only if Hamas ends weapons smuggling into Gaza and halts rocket fire into Israel, Israeli Prime Minister Ehud Olmert told the top U.S. envoy to the Middle East on Wednesday, Israeli media reported.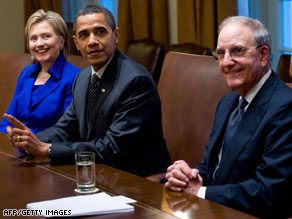 George Mitchell, right, meets with Secretary of State Hillary Clinton and President Obama on Monday.
Israel reserved the right to respond if those conditions were violated, Olmert told George Mitchell, President Obama's newly appointed envoy to the Middle East, according to Haaretz.
Israel acted on that promise Wednesday evening by responding to a Qassam rocket strike into southern Israel with an attack on what it said was a weapons manufacturing facility in Rafah City, Israel Defense Forces said.
"As the sole authority in the Gaza Strip, Hamas bears full responsibility of all terror originating from within its area of control," the IDF said in a statement. "The IDF will respond to any terror attacks in accordance with decisions made by the Israeli government."
The exchange followed a day of meetings in Jerusalem between Mitchell and Israeli leaders as part of the new U.S. administration's efforts to help foster peace between Israel and the Palestinians. Mitchell's stop in Israel is part of an eight-day tour of the region, which includes visits to Egypt, the West Bank, Jordan and Saudi Arabia, the State Department said.
Mitchell met with privately with President Shimon Peres, who said he looked forward to working with the special envoy to achieve common goals.
"You are for peace, and we are for peace. You are against terror, and we are against terror. We should work together fully, and your success will be our success," Peres told Mitchell, according to a statement from the president's spokesman's office.
"I assure you, there is no contradiction between the stances of the United States and Israel," Peres said. "We must fight terrorism and simultaneously advance peace. Israel will not allow Hamas to destroy the chances for peace, and we will work to cultivate the goodwill that is necessary to conclude a peace agreement with the Palestinians."
One of Israel's key demands in peace talks has been for international help shutting down tunnels into Gaza, which Israel says Hamas is using to smuggle weapons into the territory.
Hamas, which is considered a terrorist organization by the United States and Israel, controls Gaza.
Hours before Mitchell's arrival, Israeli missiles struck smuggling tunnels along Gaza's southern border with Egypt. The strike was in response to the death of an Israeli soldier a day earlier near the Kissufim crossing, the Israeli military said.
On Tuesday, Palestinian militants from Gaza set off explosives targeting an Israeli military patrol near the border, killing an Israeli warrant officer and wounding three other soldiers, the Israeli military said.
A short time later, an Israeli aircraft fired on a "terror operative" outside Khan Yunis in southern Gaza who was believed to be responsible for the attack in Kissufim, according to the Israeli military. A Hamas security source said one Palestinian was killed in that strike.
Tuesday's violence was the first violation of the January 21 cease-fire between Israel and Gaza that followed a three-week Israeli military operation in the Palestinian territory.
Mitchell began his trip Tuesday in Cairo, Egypt, where he thanked Egyptian leaders for helping negotiate the truce.
"It is of critical importance that the cease-fire be extended and consolidated, and we support Egypt's continuing efforts in that regard," Mitchell said. "The United States is committed to vigorously pursuing lasting peace and stability in the region. The decision by President Obama to dispatch me to come to this region less that one week after his inauguration is a clear and tangible evidence of this commitment."
Mitchell, who served as a Mideast envoy for the Bush administration, authored a 2001 report that called for a halt to Israeli settlements and greater Palestinian efforts to crack down on terror.

He also was a peace broker for Northern Ireland under President Clinton. Those experiences helped him form "the conviction that there is no such thing as a conflict that can't be ended," Mitchell said when he accepted Obama's appointment.
"Conflicts are created, conducted and sustained by human beings; they can be ended by human beings," he said.
E-mail to a friend

All About George Mitchell • Israel • Hamas • Barack Obama