From Drew Griffin
CNN






WASHINGTON (CNN) -- -- The head of America's fastest-growing labor organization tells newly elected office-holders: Live up to your promises or face the wrath, and the money, of labor next time round.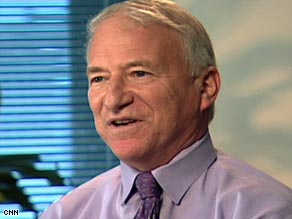 Andy Stern, president of the SEIU, says politicians must keep their campaign promises or lose labor support.
"We believe that democracy functions best when you hold people accountable for what they promise," Andy Stern, president of the powerful Service Employees International Union, said this week in a CNN interview.
The SEIU donated $85 million to Democratic campaign war chests for last year's elections, and its 2 million members put in countless hours of volunteer time on the campaign trail.
Stern, who finds himself at the center of a newly energized labor movement, said all the money and the work was to bring about change.
"I think [office-holders] should be worried that if they don't live to what Americans just voted for -- which was change, which was having workers be able to make more money to take care of their families -- people should be worried if they're not going to live up to those responsibilities. That's what we voted for," he said.
Recent federal labor statistics reveal evidence that Stern's power and his movement are growing.
Of the 428,000 U.S. workers who joined unions last year, nearly 89,000 joined the SEIU, whose members work in health care, public service and property services, including custodial work.
Stern and the SEIU are focused on growing membership in every business where low-wage earners are struggling.
The union has started looking at organizing the financial industry, especially bank tellers. The number of branch banks in the United States has increased every year over the last decade, to nearly 100,000 last year. Branches employ an average of about five tellers each. SEIU sees a potential membership payday in those numbers.
Stern was one of the first supporters of Barack Obama in the Illinois State Senate and one of the first to endorse Obama for U.S. Senate. He oversees the largest single union in the United States -- an organization that has set aside $10 million to use against office-holders in future elections if they don't deliver.
Although the SEIU's campaign efforts focused on Democrats, the union's performance reviews will be strictly nonpartisan, Stern said.
"We need to hold people accountable, Democrats and Republicans alike, for an America where everyone's work pays not just the executives and the shareholders," he said.
Stern believes that his members are owed something in return for their efforts.
He wants a fairer playing field in the nation's working world. He wants universal health care. He wants to make it easier for unions to form.
President Obama echoed some of those sentiments on Friday, issuing pro-labor executive orders to, among other things, cover workers employed by federal vendors and prevent reimbursements to federal contractors for what they spend trying to influence workers in union activities.
Stern characterized the election as the end of 25 years of market worshipping. But, he said, the nation's business focus should not veer away from capitalism.
"I totally believe that America should be focused on capitalism and competition," he said.
"I don't think you can have a free market that doesn't have some level of regulation and some level of fair competition," he added. "I think that is what Barack Obama is trying to put back into the American economy."
Stern said his vision is a more balanced market "where people have much more sharing.
"We have CEOs who are making 350 times the average salaries of workers, we have too much greed and too much wealth to the top 1 percent," he said.
"I see a labor market where hard work is rewarded, where people can own a home, raise a family and live the American dream again."
E-mail to a friend

All About Andy Stern • Service Employees International Union • Barack Obama • Labor Unions