WASHINGTON (CNN) -- In her first full week as the nation's homeland security secretary, Janet Napolitano got a full dose of the job's diverse responsibilities -- responding to ice storms in the Midwest, dealing with Congress on budget matters and scrutinizing security plans for the Super Bowl.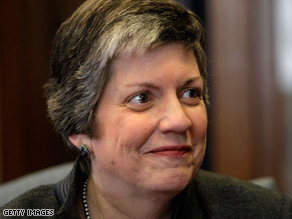 Department of Homeland Security Secretary Janet Napolitano had a busy first week at her new job.
During it all, she said, she tried to learn her way around Washington.
Napolitano, who stepped down as governor of Arizona to accept the job, said her routine includes morning security briefings followed by visits to Department of Homeland Security agencies and interviews with job candidates.
In addition, she called the governors of Arkansas, Missouri and Kentucky to make sure they were getting the help they needed to cope with ice storms, she said.
Napolitano described the ice storms as the "most pressing issue" during her first week in office.
Napolitano has issued a series of "action orders" asking for information from DHS agencies about northern border security, cyber security and transportation security, among other things. Responses for some of the issues are due Monday.
"I would say, by and large, Congress has done a pretty good job at getting resources to this key department," Napolitano told reporters Friday, adding that her job is to make sure those resources are used effectively.
Napolitano said she will be seeking areas where her department can save money but still accomplish its mission. She cited expenses for facilities and vehicle fleets as possible examples. "Are we as lean as we can be?" she asked. "My perception is, overall we're lean."
Napolitano said DHS needs to focus more on employers who hire illegal workers instead of focusing on the illegal immigrants themselves.
"You really have to look at the demand side for illegal labor and go after the employers as strongly and as effectively as you can," she said.
Asked if that meant easing up on actions against the illegal workers themselves, Napolitano said, "No."
Another area of concern: illegal immigrants in prisons. Napolitano said she wants DHS to focus on arresting illegal immigrant fugitives and on deporting them immediately upon their release.
Napolitano said she was also "very focused" on transportation security. She said there is a vast disparity between resources spent on aviation security and those on security for buses, subways and other mass transit.
She added that DHS has to do more to prevent weapons from being shipped from the United States to Mexico, where they are used in drug-related killings.
E-mail to a friend

All About Janet Napolitano • U.S. Department of Homeland Security • Mexico