From Jill Dougherty and Elise Labott
CNN





WASHINGTON (CNN) -- Kyrgyzstan's decision to close a key U.S. military base is "regrettable," Secretary of State Hillary Clinton said, but it won't affect the U.S. military effort in nearby Afghanistan.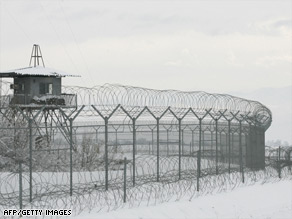 Manas Air Base in Kyrgyzstan serves as a U.S. supply route for troops and supplies into Afghanistan.
On Friday, Russia announced it would assist the U.S. in transporting nonmilitary cargo to Afghanistan, Foreign Minister Sergei Lavrov said.
The United States uses Manas Air Base in Kyrgyzstan as a route for troops and supplies into Afghanistan. Kyrgyz President Kurmanbek Bakiyev announced Tuesday that "all due procedures" were being initiated to close the base.
"It's regrettable that this is under consideration by the government of Kyrgyzstan, and we hope to have further discussions with them," Clinton told reporters Thursday after a meeting with French Foreign Minister Bernard Kouchner. "But we will proceed in a very effective manner no matter what the outcome of the Kyrgyzstan government's deliberations might be."
Bakiyev made his announcement at a news conference in Moscow, Russia, following news reports of a multimillion-dollar aid package from Russia to Kyrgyzstan.
Lavrov said on Russian television that his country intends to help get vital cargo -- but no weapons or troops -- to NATO troops in Afghanistan. The United States asked to transport the cargo through Russian territory to Afghanistan, Lavrov said.
The U.S. military is planning to send an additional 30,000 troops to Afghanistan to halt a resurgence of the Taliban.
Gen. David Petraeus, who oversees U.S. operations in the Middle East and Central Asia, described Manas as having "an important role in the deployment of these forces" and in refueling aircraft.
Senior State Department officials said the State and Defense departments are working with Kyrgyzstan to keep the lease to the base.
The officials said the Kyrgyzstan government has not yet responded to an offer to renew the lease. Discussions are being conducted through the U.S. Embassy in Kyrgyzstan and relevant State Department and Pentagon bureaus, the officials said.
One official said the United States has almost 18 months to renegotiate the lease before it expires and hopes Kyrgyzstan will reconsider their position.
Pentagon spokesman Geoff Morrell called Manas "a hugely important air base."
"It provides us with launching point to provide supplies in Afghanistan. We very much appreciate [Kyrgyz] support in using that base, and we hope to continue," he said at a daily news briefing earlier this week.
Clinton said the Defense Department "is conducting an examination as to how else we would proceed that will not affect whatever decisions we make."
Petraeus was in Kyrgyzstan last month, partly to lobby the government to allow the United States to keep using the base. He said he and Kyrgyz leaders did not discuss at all the possible closure of the base and said local officials told him there was "no foundation" for news reports about the issue.
The mountainous former Soviet republic is Central Asia's second poorest country. The United States pays about $63 million a year for use of the base and employs more than 320 Kyrgyz citizens there, Petraeus said. The base has been in operation since December 2001 under U.N. mandate.
The Russian newspaper Kommersant reported Tuesday that Russia would offer Kyrgyzstan a $300 million, 40-year loan at an annual interest rate of 0.75 percent, and write off $180 million in Kyrgyz debt.
Kyrgyzstan also is home to a Russian military base, at Kant, that officially opened in 2003.
Kyrgyz Prime Minister Igor Chudinov told Russian news agency Interfax it was coincidence that talk of the base closure comes at the same time as the loan.
"The Russian decision to grant a major loan has nothing to do with the pullout of the U.S. air base from the Kyrgyz territory," Chudinov said.
The relationship between the United States and Kyrgyzstan was damaged when a U.S. airman killed a Kyrgyz citizen in December 2006. The airman was transferred out of Kyrgyzstan, and the dead man's family was offered compensation. Petraeus said in January an investigation into the death was being reopened.
In announcing the base closure, Bakiyev said he was not satisfied with the inquiry and that his government's "inability to provide security to its citizens" was proving a serious concern.
E-mail to a friend

CNN's Maxim Tkachenko contributed to this report.
All About Kyrgyzstan • Russia • Hillary Clinton • U.S. Department of State