(CNN) -- California lawmakers were told to bring their toothbrushes and prepare for a long day Tuesday, with the goal of passing a budget as the state faces a $42 billion deficit and 20,000 layoff notices were set to go out to state workers Tuesday.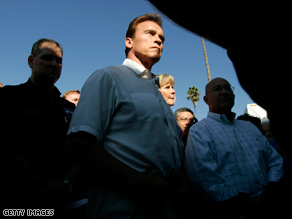 Gov. Arnold Schwarzenegger warned lawmakers about potential job cuts last week.
"Bring a toothbrush, bring any necessities you want to bring, because I will not allow anyone to go home to resume their lives ... as long as we know ... that 20,000 people will be laid off," Senate President Pro Tem Darrell Steinberg, D-Sacramento, told lawmakers late Monday.
Lawmakers had missed a Monday night deadline to reach a budget deal, prompting Gov. Arnold Schwarzenegger's move on the layoff notices, Schwarzenegger spokesman Aaron McLear told CNN late Monday.
The Republican governor, who declared a fiscal emergency in December, has butted heads for months with the Democratic majority over alleviating the state's $11.2 billion revenue shortfall this fiscal year alone. The cuts would save California $750 million for the year. The state's $42 billion deficit is for the current and next fiscal years.
Schwarzenegger warned lawmakers about the cuts last week, urging them to approve the latest budget proposal. However, voting was stalled over a 30-hour weekend session as the legislature mulled over 26 pieces of legislation that make up the budget package.
The State Assembly in Sacramento postponed action until Tuesday. A single Republican vote was holding the budget from passing with a two-thirds majority, McLear said.
Don't Miss
Some Republican lawmakers, including state Sen. Abel Maldonado, R-Santa Maria, say they don't agree with the $14.4 billion in tax increases tied into the budget package.
"People don't realize where California is at -- people are losing homes, people are losing jobs," Maldonado told CNN affiliate KOVR. "We are in a fiscal emergency and we need to come together to (resolve) it."

Watch a report on the budget crisis »
The cuts wouldn't begin until the start of the fiscal year on July 1, starting with employees of least seniority, McLear said.

McLear added that state workers are under contract, meaning layoffs would be a slow process. Schwarzenegger and lawmakers have tried discussing alternatives to avoid the scenario.
Running short of cash, California last month started delaying $3.5 billion in payments to taxpayers, contractors, counties and social service agencies so the state could continue funding schools and making debt payments.
E-mail to a friend

All About California • Arnold Schwarzenegger • Sacramento