(CNN) -- Kansas leaders Wednesday ended a standoff that had delayed tax refunds and state paychecks by agreeing to borrow $225 million from various state accounts, a spokeswoman for the governor's office said.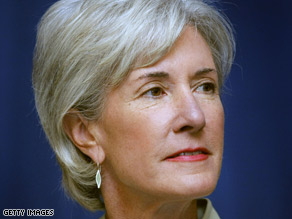 Kansas Gov. Kathleen Sebelius approved $300 million in budget cuts Wednesday.
Republican lawmakers approved moving money into the state's main account to pay the bills after budget cuts agreed to by Gov. Kathleen Sebelius, spokeswoman Brittany Stiffler said.
The state resumed processing income tax refunds on Wednesday -- they had been suspended last week because of low funds -- and state employees' paychecks will be paid on time Friday, Department of Administration spokesman Gavin Young said.
Republicans earlier this week denied the Democratic governor's request to move the money, saying they could not approve the certificate of indebtedness, also known as internal borrowing, until they knew the state could repay the money by June 30, the end of the fiscal year.
However, Republicans said they would be likely to approve the internal borrowing if Sebelius agreed to the Legislature's proposed budget cuts for the 2009 fiscal year. On Wednesday, she approved about $300 million in budget cuts.
"She blinked, and that's helpful," Senate Majority Leader Derek Schmidt, a Republican, said Wednesday.
"I'm just sorry we had to have high drama and worry a lot of Kansans about our ability to pay our obligations," Sebelius said Wednesday.
Kansas was one of several states to meet this week to address budget concerns in a time when 43 states are starting the year short on funds, according to the National Conference of State Legislatures.
"This is an equal-opportunity recession. States in virtually every part of the country are suffering... even the energy states are starting to report problems," Corina Eckl of the National Conference of State Legislatures said. iReport.com: What you'd fix first
"For most, it has only gone downhill. They have tried to make up the difference with expanded gambling, with delays of construction projects, with hiring freezes, with fee and tax increases. But almost all of this has failed to regain lost ground, merely serving as a firebreak against worse troubles," she said.
California faces a $42 billion deficit that prompted Gov. Arnold Schwarzenegger to declare a fiscal emergency in December. California lawmakers worked into early Wednesday but couldn't pass a budget.
Gov. Arnold Schwarzenegger issued 10,000 layoff notices Tuesday, affecting a wide spectrum of state agencies and employees, in an effort to deal with the budget crisis, a spokesman said.
Another 10,000 layoff notices might be sent Wednesday, the spokesman said. All the layoffs would take effect July 1, the start of the new fiscal year.
The Republican governor has butted heads for months with the Democratic majority over easing the $11.2 billion revenue shortfall this fiscal year alone. Cuts would save California $750 million for the year. The $42 billion deficit is for the current and next fiscal years. Interactive: See projected state budget gaps »
Last month, the state began delaying $3.5 billion in payments to taxpayers, contractors, counties and social service agencies so the state could continue funding schools and making debt payments.

Watch more on California's budget woes »
Also today, New Jersey's governor announced that all state employees will be forced to take two unpaid furlough days, a move that will save $35 million, part of the nearly $4 billion in budget cuts that state is making.
In Maryland, tax collections in nearly every category are falling short of expectations, with dismal revenue projects putting more pressure on state legislators to balance the budget without relying on the federal stimulus package, CNN affiliate WBAL reported.
State workers in Colorado may face unpaid time off in an effort to spare the state's colleges and universities millions of dollars in budget cuts, KUSA-TV in Denver reported Tuesday. Interactive: Estimated job growth across the country
Gov. Bill Ritter, a Democrat, announced plans recently to furlough some state workers to balance the budget. Roughly $600 million in budget cuts need to be made by the end of this fiscal year, according to KUSA.
State lawmakers will debate a bill in the House this week that would require furloughs for state workers depending on how much money they make.
"It's drastic, but we're in a drastic situation," Rep. Steve King, R-Grand Junction, told KUSA.
In Washington state, proposed budget cuts have led to protests in the capital, Olympia, KOMO-TV in Seattle reported.
State officials are looking at some $300 million in cuts as part of a package the governor is expected to sign this week. Lawmakers also are aiming to cut nearly $6 billion over the next two years.
But about 100 union members, state employees, school supporters and health care providers rallied on the lawn of the Capitol, telling lawmakers to stop the health care and education cuts and prevent tuition hikes. State employees said they want fair pay, better benefits and pensions and no layoffs.
Hawaii faces a nearly $2 billion budget shortfall in the upcoming fiscal year. That figure has led legislators to seek alternative ways of balancing the budget, including possible reductions in health and retirement benefits for government workers, KHNL-TV in Honolulu reported Tuesday.
One bill being debated in the Legislature aims to cut off insurance benefits for all employees retiring after July 1 regardless of how many years they had worked.
Back East, states such as New York and Florida, which have high unemployment rates and huge budget shortfalls, also are looking to cut programs.
In New York, the expected budget shortfall is around $1.7 billion, according to the National Conference of State Legislatures.
President Obama took his economic stimulus message to Florida last week to hard-hit Fort Myers. The jobless rate in the area is 10 percent, up from 2.3 percent this time in 2006, and the area's foreclosure rate of 12 percent is the highest in the nation.

Interactive: See where the stimulus money is going »

And Michigan's Democratic Gov. Jennifer Granholm, whose state has been hit especially hard by the recession and the auto industry's near collapse, said job creation is paramount to turning the economy around.
"We see the impact of this every day, and I'm speaking not just for Michigan, but for governors across the country. We need help. We need it now. And it's not about budgets; it's about creating jobs in our states," she said recently on CNN's "State of the Union With John King."
E-mail to a friend

CNN's Taylor Gandossy, Ed Hornick and Stan Wilson contributed to this report.
All About U.S. National Economy • California • Arnold Schwarzenegger