(CNN) -- Her school has become a symbol of the kind of crumbling infrastructure that President Obama hopes his stimulus bill will improve.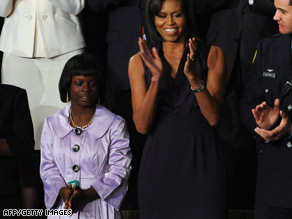 South Carolina student Ty'Sheoma Bethea was invited to the speech after she wrote a letter to lawmakers.
But on Tuesday, Ty'Sheoma Bethea became the face of the issue, when she joined first lady Michelle Obama as her guest for the president's first speech to a joint session of Congress.
The White House invited Bethea, a student at the J.V. Martin Junior High School in Dillon, South Carolina, after a letter she sent lawmakers appealing for help rebuilding her school made its way to the president.
The eighth-grader flew with her mother, Dina Leach, from South Carolina to Washington to attend Tuesday night's speech.
On Wednesday, back home in South Carolina, Bethea explained what she wanted the president to do.
"I just want for him to help my school out and to get us a bigger and better school and build us a new one, and I would thank him for that." she told CNN.
The eighth-grader was inspired to write the letter by Obama, who mentioned her school in his first presidential news conference on February 9. After visiting the school, he referenced J.V. Martin as evidence of educational institutions that would benefit from school construction funding in his $787 billion stimulus package. iReport.com: 'A very emotional moment'
In her letter, Bethea described the dilapidated condition of her school, which was built in 1896, and said the funds would improve the building and the quality of education.
Don't Miss
"We are just students trying to become lawyers, doctors, congressmen like yourself, and one day president, so we can make a change to not just the state of South Carolina, but also the world. We are not quitters."

Watch Obama quote Bethea in speech »
Obama repeated Bethea's statement about not quitting during his address.
"It was great to hear the president say my quote," Bethea said Wednesday. "We are not quitters because anything is possible, and I don't think we should give up so easily. We should work harder for it."
Poorly maintained and ill-equipped schools in South Carolina's "corridor of shame" were an issue during the Democratic primary as evidence that education reform had to be an imperative for the next president.
The schools became an issue again last week when South Carolina Gov. Mark Sanford, a Republican, said he might turn down some of the money in the stimulus. And South Carolina Rep. James Clyburn, the highest-ranking African-American in Congress, said turning down money was an "insult" to blacks.
"We have legislation here now with the money to do something about the schools, do something about water and sewage along that corridor in these 12 counties. And now the governor says, 'I don't want to accept the money.' That's why I called this an insult, that's why I said this is a slap in the face, because a majority of those counties are, in fact, inhabited by African-Americans," Clyburn said on CNN's Situation Room with Wolf Blitzer.
In his speech Tuesday, Obama vowed that education is among the priorities of his administration. He urged Americans to take advantage of the promise of an education.

Watch Obama discuss education »
"In a global economy, where the most valuable skill you can sell is your knowledge, a good education is no longer just a pathway to opportunity. It is a prerequisite," he said.

"It is our responsibility as lawmakers and as educators to make this system work, but it is the responsibility of every citizen to participate in it." Obama said. iReport.com: What would you fix first?
"So tonight, I ask every American to commit to at least one year or more of higher education or career training. This can be a community college or a four-year school, vocational training or an apprenticeship. But whatever the training may be, every American will need to get more than a high school diploma."
E-mail to a friend

All About Barack Obama • National Economy • South Carolina