By Paul Steinhauser
CNN Deputy Political Director





WASHINGTON (CNN) -- A new national poll indicates that a majority of Americans support President Barack Obama's plan to send 17,000 more U.S. troops to the war in Afghanistan.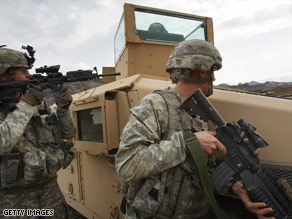 U.S. soliders conduct a joint military exercise with the Afghan National Army in Afghanistan on Monday.
And the survey, conducted by CNN and the Opinion Research Corp., suggests that half of all Americans think the United States is winning the war in Iraq, the highest percentage since that question was first asked in a CNN poll in 2004.
The survey's Thursday release comes one day before Obama is expected to travel to Camp Lejeune in North Carolina to announce he'll withdraw most combat troops from Iraq within 19 months.
Sixty-three percent of those questioned in the poll say they support Obama's plan to beef up U.S. troops in Afghanistan, with 36 percent opposing the move.
But only 47 percent favor the war in Afghanistan, with 51 percent opposed to the fighting that first began soon after the terrorist attacks of September 11, 2001.
"Obama's plan for more troops wins twice as much support as the surge in troop levels in Iraq won when George W. Bush first unveiled that plan in 2007," CNN Polling Director Keating Holland said. "The Afghanistan plan is more popular than the Iraq surge because the war in Afghanistan is more popular."
Only 32 percent supported President Bush's move in January 2007 to beef up U.S. forces in Iraq. A similar amount supported the war in Iraq at that time.
Sixty-two percent say the U.S. can eventually win the war in Afghanistan. That's twice as much as the 31 percent who feel America is currently winning the war.
"Democrats oppose the war in Afghanistan by nearly 2 to 1. They're asking, 'What's our strategy there? We don't want another Iraq,' " said CNN Senior Political Analyst Bill Schneider.
"Democrats are apprehensive about Afghanistan, but they're willing to give their president the benefit of the doubt," Schneider said.
As for Iraq, even though 50 percent think the U.S. is winning the war there, two out of three people questioned still oppose the U.S. mission, with just 31 percent backing the fighting in Iraq.
"This indicates that the public thinks the surge worked, but that hasn't changed their view of the war in Iraq at all," Holland said. "As a result, nearly seven out of 10 favor the idea of removing most U.S. troops from Iraq by next spring, a proposal that was a key part of Obama's presidential campaign last year."
The CNN/Opinion Research Corp. poll was conducted February 18-19, with 1,046 adult Americans questioned by telephone. The survey's sampling error is plus or minus three percentage points.
E-mail to a friend

All About Afghanistan War • Iraq War • Barack Obama