By Arsalan Iftikhar
Special to CNN





Editor's Note: Arsalan Iftikhar is an international human rights lawyer, founder of TheMuslimGuy.com and contributing editor for Islamica magazine in Washington.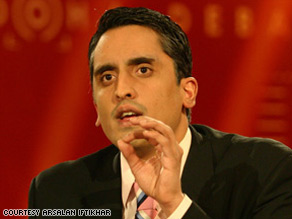 Arsalan Iftikhar says Obama should build on his success in Turkey with a speech to Muslims from Jakarta.
(CNN) -- During his visit to Turkey, President Obama sought to officially reach out to the Islamic world after eight years of tension by declaring in a speech to the Turkish Parliament that he is determined to have a lasting "partnership with the Muslim world."
"Let me say this as clearly as I can: The United States is not -- and will never be -- at war with Islam," President Obama said toward the conclusion of his remarks delivered in Ankara to Turkish members of Parliament on Monday.
In his true Chicago political style, he even added a little treat for NBA fans in Turkey and Europe: "As a basketball fan, I've even noticed that Hedo Turkoglu and Mehmet Okur have got some pretty good game...."
One of the most moving passages in his speech was: "We seek broad engagement based upon mutual interests and mutual respect. We will listen carefully, bridge misunderstanding and seek common ground. We will be respectful, even when we do not agree. And we will convey our deep appreciation for the Islamic faith, which has done so much over so many centuries to shape the world for the better -- including my own country. The United States has been enriched by Muslim Americans. Many other Americans have Muslims in their family, or have lived in a Muslim-majority country -- I know, because I am one of them."
The speech was a major step forward, but it was not the fulfillment of his pledge to give a major speech to the people (not parliament) of the Muslim world from a Muslim capital in his first few months in office.
Barack Obama lived in Indonesia from 1967 to 1971, and during his run for the presidency, he endured a whisper campaign about being a "crypto-Muslim." As a result, he kept his political distance from the Islamic world and the American Muslim community in general. During the presidential election, the "Muslim" insinuation became so radioactive that two American Muslim women in Michigan were removed from an Obama event in Detroit by campaign volunteers in June 2008 simply because the two women wore hijab (head scarves).
Don't Miss
Finally, Secretary of State Colin Powell went on "Meet the Press" in October 2008 to quell the crypto-Muslim rumors about Obama and highlight the sacrifice of an American Muslim soldier who gave his life in Iraq for the United States. At the time, there could not have been any better messenger than Powell: a well-respected Republican, a former secretary of state and an army general. After that television appearance, American Muslims felt slightly less politically radioactive.
Now, the focus shifts to how (and where) President Obama will fulfill his promise to address the Muslim world from a major Muslim capital. In a January 2009 sit-down television interview with Arab news channel Al-Arabiya (the first network interview of his administration); he again emphasized his promise: "...We're going to follow through on our commitment for me to address the Muslim world from a Muslim capital...."
In my opinion, President Obama should pick Jakarta, Indonesia, as the location for his first major address from a Muslim capital for several reasons.
Indonesia is the largest Muslim nation in the world, with more than 244 million people. If he delivers a Jakarta speech, his words will carry special meaning with the Muslim world because of his own experience living within a multireligious and multiethnic Muslim nation.
It would be a politically wise choice in an increasingly diverse world. By giving a speech from a large Southeast Asian Muslim nation that is also a racial and religious melting pot for diversity within greater Asia, he can speak to the post-racial Obama generation around the world.
Both Cairo, Egypt, and Amman, Jordan, could very possibly (and rightfully) make the president's short-list of venue locations. However, although Egypt has a population of more than 81 million, it has had Hosni Mubarak as its not-so-democratic leader since the assassination of Anwar Sadat in 1981.
Amman, Jordan, will not make the final cut simply because it is too close to the Israeli-Palestinian flash point. According to the U.S. State Department, there are more than 1.7 million Palestinian refugees in Jordan and it may not be the politically wisest time to pick Amman as a presidential speaking venue.
This would leave Jakarta as the optimal choice for a major speech of this magnitude.
President Obama's speech Monday is a measure of how far our understanding of the Muslim world has progressed. During a reception Monday in Washington for the launch of the report of the U.S.-Muslim Engagement Project, former Secretary of State Madeleine Albright said, "When I became secretary of state, we did not have Muslims employed in the State Department... I went back to my notes, when I was writing my book.... And I had various notes which read 'Learn more about Islam'...."
In terms of U.S.-Muslim relations, Albright grades the president an "A+" thus far.
With his moving speech in Ankara to the Turkish Parliament, President Obama clearly succeeded in reaching out to embrace the Muslim world. By picking one of the aforementioned Muslim capitals as the venue for his long-anticipated "major" global speech, the Muslim world of 1.2 billion people will finally have our official opportunity to collectively embrace him back.
The opinions expressed in this commentary are solely those of Arsalan Iftikhar.
E-mail to a friend

All About Barack Obama • Indonesia • Egypt • Amman (Jordan)